Reactions to the falling of the UC Dome- As told by students and staff of Utica College.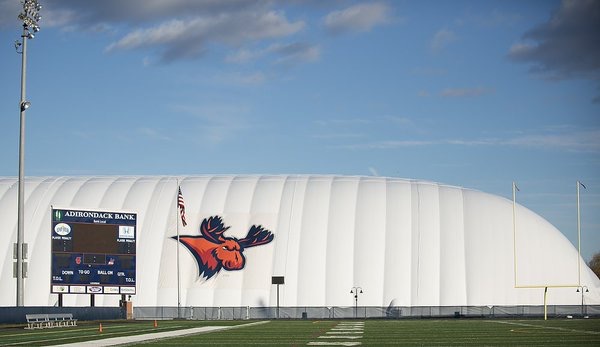 Kaitlyn Tambasco, staff writer 
(Photo credit: twitter.com)
During spring break, Utica College lost its sports dome during the big winter storm. We talked to students and staff about their reactions to the falling of the dome.
Area Coordinator Lauren Crandall has her own reactions to the dome.
"I was actually here on campus when it collapsed. I got around three texts and a knock on my door at about the same time," Crandall said.
Crandall said she was remembers what the landscape looked like with out the dome.
"I was here before it was even built," Crandall said.
However, she imagines how weird it must be for students and staff who started at UC when it was already built.
"So many of our students, athletes, and members of the community use it for athletic competitions, exercising and intramurals," Crandall said. "I know the college is doing all we can, but it's disappointing,"
Freshman Olivia Harwick, also had her fair share to say about the falling of the dome.
"I heard about the dome's collapse over spring break on WKTV," Harwick said.  "I was really surprised because it looked really durable and stable,"
Harwick also added that she has talked with her friends and her family about the collapse of the dome and they are all glad that no one was injured.
"It's interesting to walk by it because it looks like a deflated marshmallow," Harwick said.
Freshman Joel Kaigler also added his own feelings about the dome.
"I heard about the dome collapsing the week of spring break, but I'm not sure of the exact date," Kaigler said.
Kaigler also added that it is different not seeing the dome .
"I'm used to looking at the dome while I eat lunch and walk to classes. I feel it is a very important part of this college," Kaigler  said. "The same person who built our dome, built one in Alaska that collapsed back in January from the same thing. So it is an issue with construction. Syracuse University has people on top of their dome, shoveling off the snow. They also turn up the heat inside the dome to melt the snow."