SGA presidential candidate Q&As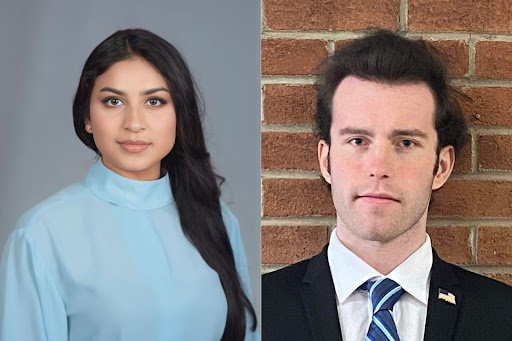 Kyle Mitchell Q&A
Kathi Jabe Q&A
Kathi Jabe is a second year pre-med student majoring in biochemistry and minoring in human rights advocacy. She currently holds Executive Board status in the Chemistry Club, Asa Gray, Model UN and the Class of 2025. She is a TRIO mentor, TA for chemistry and office assistant and tutor for Young Scholars LLP.
Q: How long have you been involved with SGA? What inspired you to join?
A:  Since my freshman year, I have had the privilege of being involved with the Student Government Association (SGA). As a passionate and driven individual, I recognized the value of my unique perspective and ideas in advancing the student experience at our university. Thus, I joined as a Senator, eager to contribute to the betterment of our community. As fate would have it, my dedication and commitment did not go unnoticed. At the end of my first year, I was offered the opportunity to become a member of President Kusinitz's board as Treasurer – a position I have proudly held for the past year.
Q: What does your involvement outside of campus look like (are you involved in the community, etc)?: 
A: I am an active member of the Islamic Association of Utica, where I attend and volunteer biweekly. I volunteer as a Burmese translator for parents of Young Scholars students in the Utica City School District. I am a volunteer Crisis Counselor with the Crisis Text Line.
Q: What inspired you to run for the SGA Presidential role?:
A: I believe it's time for a change in leadership. As a first-generation student, refugee, and woman of color, I offer a unique perspective that our leadership has not seen in far too long. Furthermore, my extensive experience serving in numerous leadership roles both within and beyond the Student Government Association (SGA) has sharpened my abilities in fostering transparent communication, generating pioneering programming, and leading fruitful collaboration, all of which can contribute towards enhancing the overall student experience.
Q: What do you hope to achieve for the Utica University campus? 
A: My aspiration is to become a campus leader who serves as an inspiration for those students whose voices may have been marginalized or disregarded, to demonstrate that every individual on this campus is capable of being a leader. Whether a student athlete, a commuter student, or a member of the Greek community, every individual possesses the capacity to make a difference. It is my utmost desire to cultivate and strengthen the relationship between the SGA and the student body, creating a culture of inclusivity where every student feels at home, embraced, and acknowledged, and where their anxieties and preoccupations are taken into account and resolved.
Q: If you were elected, what is the first thing you would do?
A: In my capacity as President, my first objective is to improve the student experience. To this end, I have devised a plan to transform the House of Orgs meetings into a welcoming and inclusive forum, where every student can freely express their views and concerns regarding not only my leadership, but also their academic progress, extracurricular activities, and the overall functioning of our institution. Moreover, I am committed to streamlining the procedure for students to obtain funding, club memberships, and individual requests, making it a more user-friendly and straightforward process by providing greater access to information and guiding them through each step of the way.
Q: Are there certain issues and/or things on campus that you would like to change or investigate?
A: As a student leader, it is my responsibility to engage with individuals from diverse backgrounds and perspectives, and to seek out their input on how to enhance their university experience. One of the key areas that I seek to improve is the level of involvement amongst commuter students. It is of utmost importance to demonstrate that the involvement opportunities offered by our institution are not solely geared towards residential students. To achieve this goal, I aim to create events that are accessible to all students by strategically selecting locations closer to lecture halls, scheduling events earlier to enable commuter students to depart earlier in the evening, and spreading the word about these events more widely.
Another issue that demands my attention is the condition of our facilities, ranging from residential hall restrooms to locker rooms in the fitness center. These issues are frequently brought to my attention by students, and I am committed to working collaboratively with the administration to address these concerns and enhance students' comfort levels. By doing so, we can create a university environment that is welcoming, accommodating, and inclusive to all students.
Q: How will you manage your time between academics, extracurriculars, and the SGA President role?
A: I believe that in order to be effective students and leaders, we must also prioritize taking breaks to recharge and rejuvenate. To this end, I have meticulously arranged my upcoming semester's schedule to allow for ample time on Wednesdays, the days of Senate and House meetings, to be nearly free. This block of time will provide me with a full day each week to fully immerse myself in my presidential duties and serve the student body to the best of my abilities.
Moreover, I have come to the realization that some of my clubs may benefit from new leadership perspectives, and thus, I intend to facilitate a smooth transition process to help these clubs select new representatives and shift their leadership roles accordingly.
Q: What do you feel is the most important part of the SGA's role on campus?
A: In my view, the most crucial aspect of the SGA's role on campus lies in its ability to establish a direct link between the student body and the administrators who are responsible for shaping our university experience. As a governing body, the SGA wields significant influence to effect meaningful changes that truly reflect the needs and interests of students. By channeling students' voices and viewpoints into actionable initiatives and policies, the SGA can serve as a powerful advocate for the student body, and help to create an environment that fosters learning, growth, and personal development.
Q: What do you want students to know about you?
A: As a student myself, I am well aware of the challenges and opportunities that accompany the college experience. My leadership style is rooted in a deep-seated commitment to enhancing the well-being and satisfaction of every student on our campus. I truly believe that the opinions and perspectives of each and every student are invaluable, and I am determined to leverage this insight to drive tangible improvements that will make a meaningful difference in their lives.
I want each and every student to feel heard, seen, and valued. In my capacity as a leader, I am accessible and approachable, and I warmly welcome students to share their thoughts, concerns, and ideas with me. Whether it's chatting over coffee or taking a walk around campus, I'm here to offer a listening ear and a supportive presence. Ultimately, I believe that building strong relationships and fostering a sense of community is key to unlocking the full potential of our campus and all of its constituents.