EIC Eats No.3: Plant-Based Fast Food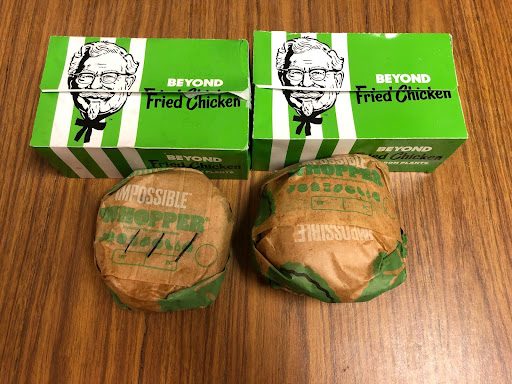 After attempting and completing two incredibly unhealthy McDonald's fast food challenges, I decided to try something different. For this week's EIC Eats, I decided to stick with fast food, but do two plant-based menu items that you may have heard of: the Impossible™ Whopper from Burger King and Kentucky Fried Chicken's Beyond Fried Chicken Nuggets. 
Here's my review:
Impossible™ Whopper
The Impossible™ Whopper is my favorite item of the Burger King menu, so this was a fun sandwich to eat. Unfortunately, in order to make this truly plant-based, I had to get it without mayonnaise. In addition to no mayonnaise, I also did not have onion or tomato because those are not my favorite things. 
When you bite into an Impossible™ Whopper, it honestly doesn't taste anything like a real Whopper. It has this distinct taste, however, that makes each bite just as enjoyable as the last. This sandwich does have a meaty taste, but it's not the hamburger meat taste you want out of a Whopper. 
Overall, I personally enjoy this sandwich far more than the traditional Whopper. The soy-based meat is a very flavorful alternative, and this would be a good option for someone on a plant-based diet. If you are looking to lose weight, I would stay away from this because in terms of calories, fat, sodium, etc., it is not much different compared to the traditional Whopper.
Beyond Chicken Nuggets
KFC decided to do a new promotion with Beyond Meat®, which is a plant-based alternative to their original fried chicken. After consuming 18 of these Beyond Chicken Nuggets, it is safe to say I have a strong sense of what they're like.
For being a chicken alternative and not the real meat, these nuggets were tasty. They were larger than any other fast food chicken nuggets and were in the shape of perfect squares. If I did a blind taste test with these, I would not have guessed that they were made with Beyond Meat®. However, they did have a downfall.
To describe them bluntly, the breading made them taste like extra dry Burger King chicken nuggets. For those who know how BK's nuggets taste, you will know exactly what I mean. I think the meat part of the nuggets were extraordinary and flavorful, but the breading was just dry.
I don't know how long KFC's promotion will last, due to supply shortages and other things, but I would recommend giving these a shot. They have a great taste and with enough sauce, you won't be able to tell how dry the breading is.
Layout Editor Thomas Caputo also participated this week and he shared similar thoughts on these products. The only difference between our reflections was he thought the Impossible™ Whopper tasted more like the traditional Whopper.
Overall Nutrition Intake
This challenge was much healthier than the previous two, but it was still a ton to consume. Here are the combined statistics from the Impossible™ Whopper and the 18 Beyond Chicken Nuggets:
Calories: 2,066 
Total fat: 123 g
Carbohydrates: 152 g
Protein: 136 g
Dietary fiber: 5.7 g
Total sugars: 13.5 g
Cholesterol: 16.5 g
Sodium: 5,663.5 mg
EIC Eats will be a biweekly part of The Tangerine, where Editor-in-Chief Matthew Breault will do some sort of food challenge either alone or with fellow staff members. Thank you all for allowing me to share my food habits with you and you will hear/read from me soon. If you have any recommendations, please feel free to let me know.
Previous EIC Eats: