EIC Eats No.1: 4,560 McDonald's Calories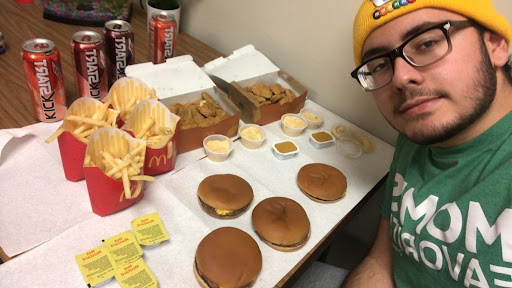 On Saturday, Jan. 22, I, Matthew Breault, decided to do something that was very fun and very difficult. I ate 4,560 calories of McDonald's food, combined with four MTN DEW Kickstart beverages. 
When I went to McDonald's that Saturday night, I planned on ordering just one of the $10 combos that consists of two cheeseburgers, two medium fries and 20 Chicken McNuggets. After ordering the combo, I ended up spending $23.06 because the lady rang me up for two of the $10 combos.
When this happened, I didn't mind because I thought to myself that I could just bring some food home to my mother and grandmother. This, however, did not happen.
I had a dream a few nights before that I had a show on UCTV called "EIC Eats," where I would do food challenges. I always joke about the amount of food I consume on a daily basis, so I thought to make this dream into a reality and create EIC Eats.
Anyway, when I decided to start consuming this food, I took tips from one of my favorite YouTubers, Erik Lamkin, who runs a channel called "ErikTheElectric," where he does insane food challenges. 
I started to put some fries and some chicken nuggets on the cheeseburgers to make it seem like I had less food to consume. Getting the super carby food out of the way was my main goal.
After just 11 minutes, I finished half the challenge. It then took me another hour to complete the rest. I honestly didn't feel full until after I had consumed everything besides eight chicken nuggets. Yes, after consuming four cheeseburgers, four medium fries and 32 Chicken McNuggets, my stomach wasn't full. Impressive, considering I stand 5'9" and if I flex hard enough in the mirror, it looks like I have abs.
Overall, here are the statistics from the challenge, not including the 360 calories from the four MTN DEW Kickstarts:
Calories: 4,200

Total fat: 214 g (275% DV*)

Carbohydrates: 408 g (151% DV*)

Protein: 173 g (346% DV*)

Saturated fat: 49 g (245% DV*) 

Dietary fiber: 25 g (93% DV*)

 Calcium: (46% DV*)

Trans fat: 2.5 g

Total sugars: 33 g

Iron: (101% DV*)

Cholesterol: 420 mg (143% DV*)

 Potassium: (106% DV*)

Sodium: 7,390 mg (319% DV*)
For those of you who had fun reading this, EIC Eats will be a biweekly part of The Tangerine, where Editor-in-Chief Matthew Breault will do some sort of food challenge either alone, or with fellow staff members. Thank you all for allowing me to share my food habits with you and you will hear/read from me soon.