EIC Eats No.2: McDonald's Menu Hacks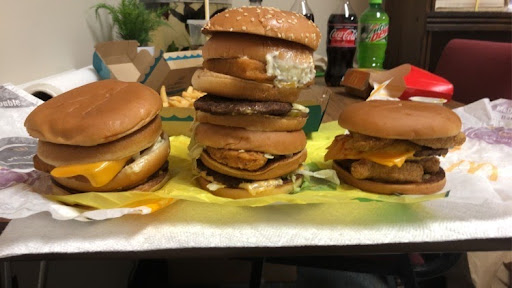 One place that has been in the fast food news more recently has been none other than the golden arches of McDonald's. What McDonald's decided to do is essentially open up their "secret menu" to the public. So… EIC No. 2 was back at McDonald's once again.
For a limited time at McDonald's restaurants, you can order specific "menu hacks" by name, those include the Surf + Turf, Crunchy Double, Land Air & Sea and the Hashbrown McMuffin. I tried each one besides the Hashbrown McMuffin because I did this challenge later in the day. I would also like to add I also enjoyed a medium french fry and some Diet Coke because it was free with the purchase of one of the sandwiches. 
I decided to stream myself eating these live on my Instagram account @its_a_dinger because I wanted people to believe that I could actually consume this much food and they could see my genuine reactions. Here's my review:
Surf + Turf
The Surf + Turf sandwich is arguably one of my favorite menu hacks from any fast food place. The sandwich consists of the iconic Filet-O-Fish® sandwich, combined with a Double Cheeseburger. For mine, I decided to do no onions because I am very against having onions on any of my sandwiches.
When I took the first bite, the combination of the fish, the tartar sauce and the entire cheeseburger was truly remarkable. The texture was very nice with the combination of the crunchy fish and light steamed bread from the fish, and the toasted bread and cheeseburger. 
Many McDonald's lovers have heard of the "McDonald's McGangBang," which combines a McChicken and a McDouble. That sandwich is a secret menu hack that many know of, but the name needs to be changed because it is highly inappropriate. The reason why I bring this up is because I honestly believe the Surf + Turf is better.
Crunchy Double
The Crunchy Double was the second sandwich I ate. This menu hack combines a Double Cheeseburger (still no onions) and six Chicken McNuggets®. I put three of the nuggets on the top and three of them on the bottom. Just like the Surf + Turf, the first bite was remarkable.
The combination of flavor between the two different meats (chicken and hamburger) is something I could enjoy every time I go to McDonald's. The nuggets I had weren't the crunchiest so the excitement wasn't there like it was with the fish, but I have had it numerous times before and when the nuggets are crunchy, this is a must order item.
I will admit, this is the part of the challenge where all the slices of bread and breading (from the nuggets) started to catch up to me. I had different beverages like Diet MTN DEW, Dr Pepper Zero Sugar, Coca-Cola Cherry Vanilla Zero and Pepsi Zero Sugar to help me get the food down easier. However, I did not drink all four bottles of soda like I did in EIC No. 1.
The next and last item on this list was the best of all.
Land Air & Sea
Whoever came up with this idea should be praised by many, and disgusted with themselves. I would agree that combining land (Big Mac®), air (a McChicken®) and sea (a Filet-O-Fish®) seems excessive, but it is a damn good sandwich. So, whoever did this, thank you from the bottom of my sodium filled heart.
I decided to stack each sandwich and not remove the bread I was supposed to remove so I was stuck with seven pieces of bread from three totally different sandwiches. The only thing I disliked about this was the amount of bread, but that is my fault, so it is not a fair critique.
I probably should have started with this since it was the biggest and most filling. Even though my stomach was experiencing discomfort, every bite was just as enjoyable as the last. I split the sandwich into halves because although I have a big mouth, there was no way I could have taken a bite large enough to get all three sandwiches.
At this point in the challenge, the lettuce from the Big Mac® and McChicken® began to get soggy. This is one thing you should watch out for when combining different sandwiches because some parts of each sandwich can get gross on you when you least expect it.
I would describe this sandwich as a delightful pain in the butt to get through because of how dense it truly is. Every bite, although enjoyable, began to get more difficult and thick because of both the meat and the bread. I strongly recommend trying this menu hack as well, but make sure you do it first.
Overall Nutrition Intake
This challenge was still quite unhealthy, but it was far more enjoyable than the last. Now that I am going to take a miniature break from McDonald's, here are the challenge statistics:
Calories: 3,220
Total fat: 165 g (213% DV*)
Carbohydrates: 296 g (108% DV*)
Protein: 140 g (278% DV*)
Saturated fat: 49 g (247% DV*) 
Dietary fiber: 15 g (54% DV*)
Calcium: 645 mg (52% DV*)
Total sugars: 47 g
Iron: 19.5 mg (109% DV*)
Cholesterol: 405 mg (136% DV*)
Potassium: 2,910 mg (65% DV*)
Sodium: 6,000 mg (260% DV*)
EIC Eats will be a biweekly part of The Tangerine, where Editor-in-Chief Matthew Breault will do some sort of food challenge either alone, or with fellow staff members. Thank you all for allowing me to share my food habits with you and you will hear/read from me soon. If you have any recommendations, please feel free to let me know.