Former Defenseman Fritz signs with ECHL outfit, South Carolina Stingrays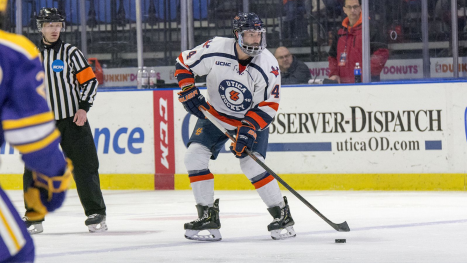 Abin Boris, Sports Editor
Former Utica College defenseman Daniel Fritz recently signed with the South Carolina Stingrays of the ECHL to continue playing professional hockey. He is coming off a brief stint in the Southern Professional Hockey League with the Pensacola Ice Flyers, where he contributed two assists in eight games.
Fritz, who accumulated 82 points (20 goals, 62 assists) over his 84 game span with the Pioneers left the program tied with former Utica defensemen Dalton Carter for most points all-time for a Utica defenseman.
In his last season as a Pioneer, Fritz put up 39 points as a defenseman. His total was 16 more points than the next defenseman Justin Allen who produced 23 points that season.
Fritz's skill was on display night in and night out during his tenure with Utica and with the upcoming season right around the corner, teammates like Justin Allen know how much he will be missed in the lineup heading into this upcoming season.
"The biggest thing the team will miss is Daniel's blue line presence," he said. "He has an incredible shot from the point and opposing teams have a hard time stopping him from executing."
Players such as Allen intend to support Fritz in his future endeavors with professional hockey. His signing has also given individuals on the current Pioneers roster motivation to play at peak ability in order to move forward with their hockey careers as well.
"I am really happy and excited for him of course," Defenseman Cameron Bartkowski said. "But at the same time, it is encouraging for the rest of us because we see the possibility to continue our careers after college at a higher level."
In previous conversations Head Coach Gary Heenan, he has stated how it is a great recruiting tool for the team and of course for the player, he is now in a professional hockey league. The team, according to Heenan and Forward John Moncovich, takes pride in sending players to professional teams.
"Not a lot of Division 3 schools can say they have done what we have in that regard," he said
As Fritz continues his journey within the professional hockey world, the team and the coaches in Utica will continue to root him on from afar.
"Any time we send a guy to the pros it is a good look for the program and it is proof that our hard work pays off," Bartkowski said. "It is exciting to see how far your teammates can go, we are always rooting for each other."