Greek life at UC gets more recruiting time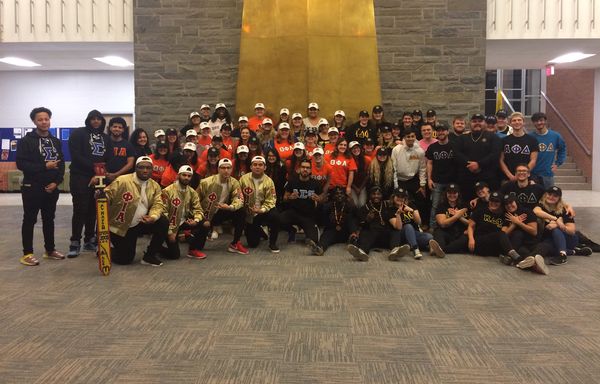 One of the coronavirus impacts this semester involves Greek life with the elimination of a pledge class line for the fall semester.
Greek life introduced two organizations last school year in a spring semester that looked to be one of growth for the community of 12 organizations. COVID hit in the middle of the six-week pledging process, forcing organizations to conduct their processes in record time.
InterGreek Council Adviser Frances Lucia said she reacted quickly to the standstill in the pledging process last spring.
"I had to reach out to all national organizations to let them know they needed to finish up their process by that Friday before Spring Break," Lucia said. "Luckily, everyone was able to finish up their processes in record time. It allowed us to open up the fall with those new members."
When transitioning into the fall, some organizations have had a difficult time finding their place at Utica College with the new procedures and guidelines implemented. One of which has caused all Greek organizations to not hold a pledging process for the fall semester. However, Lucia was adamant about how this was actually beneficial to the Greek community.
"We've turned COVID into a positive," Lucia assured. "It's allowing us a chance to work amongst each other and grants a whole semester of recruitment. We get to go out there and meet our first-year students who are excited to find their place in the UC community."
The news that these organizations would not be able to pledge this semester was initially taken hard by many due to the limitations of numbers. With this displeasure, the idea to appeal this motion was brought up but only briefly. 
Lindsey Rasmussen, president of the InterGreek Council and a sister of Kappa Delta Phi, explained that there will be no action taken to fight to change the current standstill of numbers.
 "In the beginning, people were upset but when explained, they understood," Rasmussen said. "Since we are close to the halfway mark of the semester we have no intention of changing the decision to allow formal recruitment and pledging."
With COVID-19 guidelines being implemented it has restricted the ability to hold high-traffic events. Midnight Breakfast is a traditional Greek led event on campus which was postponed due to campus guidelines. The event, according to records from Pioneer Place, is the second-highest attended event at UC. 
Lucia explained that the Utica College community shouldn't be disheartened quite yet. 
"Midnight Breakfast is impossible right now but we are still looking to hold it during midterms next semester," Lucia said.
When deciding to fill the void left by the absence of Midnight Breakfast until next semester, the Greek community has been quick to act. Different events have already been conducted by specific organizations such as Kappa Delta Phi and Alpha Phi Delta.
"Each organization is trying to hold events with regard to following social distancing guidelines," Lucia said. "Alpha Phi Delta just held a cornhole tournament and their attendance was much greater than expected. The important part is that they did it right with following guidelines. Plus, Kappa Delta Phi held a Paint & Sip that was sold out very quickly as well as Meet the Greeks which was an in-person event where 97 students went through."
Regarding COVID-19's impact on the Greek community and hold over the numbers within the organizations, the question many are asking is whether the Greek community will be able to survive this pandemic?
Both Lucia and Rasmussen said the Greek community is more alive now than ever before.
"COVID has made a lot of things harder not only for us but the whole campus community but this will pass and it will make us better," Rasmussen said. "We want to show that Greek Life at UC cares about the community."