Retail therapy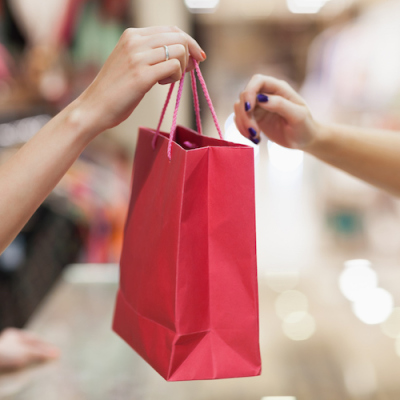 Georganne Jadhon, Staff Writer
When it comes to shopping, every student has their own preference on their favorite stores.
Many students at Utica College have their favorite stores that accompany all of their clothing needs for every occasion, most of which are large, chain retailers.
Junior Kelly Floyd loves shopping in the Utica area, but her favorite store is Urban Outfitters.
The closest one to her is located in Syracuse where her mom lives. Whenever she takes a trip to visit her, she always finds time to make a stop at Urban.
"Urban is my all-time favorite store," Floyd said. "The clothes are so cute and trendy. Every piece of clothing I own from there has lasted me for years, and it has the best quality stuff there is."
She goes on to explain some of the store qualities that attract her the most.
"It's always been my go-to store for whenever I want something new," she explained. "Even though it's a chain, they only have a few located in different areas, so whenever I take the trip home to see my mom I always make sure to have enough money with me to go on a shopping spree there. The prices add up quickly, but it's so worth it for the cute clothes I buy."
Even though Utica doesn't have an Urban Outfitters, Floyd doesn't mind driving the hour trip to Syracuse to shop at her favorite store.
Senior Michael Senus likes to shop at the American Eagle located in the Sangertown Mall in New Hartford.
"It's my favorite store to get clothes from," Senus said. "They always have good deals like buy one get one for 50 percent off, and those deals are great for college students like myself."
Senus also likes that it's a chain and close to home.
"Whenever I want to get a new shirt or some jeans, all I have to do is drive 10 minutes from my house," he said. "It's always my number one choice when I need new clothes, and I never leave the store disappointed because I always find something I like to buy from there."
Senior Marissa Hajec enjoys shopping at least twice a week. Her favorite store is Express, which is also located in the Sangertown Mall.
"It's the best place to get cute clothes in my opinion," Hajec said. "It's my favorite store to go to when I just want to get something new and fashionable. Not only do I have a credit card there, but you also get points for every purchase you make."
Hajec explains how the points system makes shopping there even better because she gets extra deals with the more you purchase.
"Anytime I need a cute outfit for a special occasion or going out, Express is always my number one choice to go to," Hajec said.
Hajec says she treats herself to new clothes a few times a week because of Express's in-store deals.