Dante Zapata built trust by winning faceoffs in big moments
Dante Zapata knows the value of the draw and would practice faceoffs enough until he could beat everyone on the team with "ease." Typically those matchups came through friendly competition in a best-of-five series. The winner would move on building consistency on the dot.
For every drop, it's the same routine. He pulls his left double pad first, then the right elbow pad followed by the left and right shin pad. He gets down in position, taps his stick, gets his mind right then he's ready to faceoff. 
Opening draws can give either team crucial seconds of immediate momentum to start the game. He knows when to be fast or play mind games with the opposition by studying the refs and identifying the ones who drop the puck slowly or the refs who slam it down. Knowing that he works on his speed and timing of the puck drop. 
"Timing is key when it comes to a draw," Zapata said. "You need to make sure you are timing the drop and almost anticipating not really cheating it but you're kind of cheating it."
Winning the draw is something he thinks about and as a centerman the little things matter. In pre-scout videos, he focuses on faceoffs by watching the tendencies of other players, dissecting where their feet line up to learn what they're thinking and where they would push. 
All of this helps him decide whether to size up the player or the puck to gain momentum before getting preset. 
"Their footing is a tell-tale sign of where they're going to try to go with the puck and the way that they're gripping their stick and the angle of their stick," Zapata said. "If their blade is more open then [I know this] guys pulling it this way or that way." 
Throughout his career, he's won 1,113 faceoffs and lost 606 and as a forward this season he's registered 12 goals and 21 assists while earning numerous UCHC honors. 
To win draws and be good at it Zapata's methods start with an intense focus on the puck and a solid stance creates a strong position to win battles. Positioning is also key, to pull the puck requires a specific body position because pulling to the backhand means placing the left foot forward to get more leverage on the left leg to pull everything back. Finally, you have to be strong and fast. 
As a youngster, those steps were always executed. Freshman year in a big UCHC game with seconds left on the clock in the defensive zone he went up against a senior opposing player, the nerves would kick in and he jumped on the puck. 
"[Coach] Gary [Heenan] looked at me and said 'Can you win this draw'," Zapata said. "I was like, 'I got it. I gotta find a way.' "
Since then, he's watched and learned through the years, remained consistent, and bumped ideas from players he would lose to within the team. One of which was the likes of forward Lucas Herrmann, a good draw guy. 
Herrmann and Zapata would have their fair share of faceoffs. The back-and-forth battles on the ice would sharpen their skills helping them become stronger on their sticks.
"I struggled a little bit against righties and he struggled a little against lefties. He is a big strong kid so we go against each other and it's tough and fun to battle him," Herrmann said. "We help each other out with what he doesn't like that lefties do against him as a righty and I tell him what I don't like righties do against me as a lefty."  
As centermen, the two talked about faceoffs and echoed the sentiment that timing is important for this unique aspect of the game.
"You got to look at it as a one-on-one battle," Herrmann said. "It's a lot of technique a little bit of strength and timing"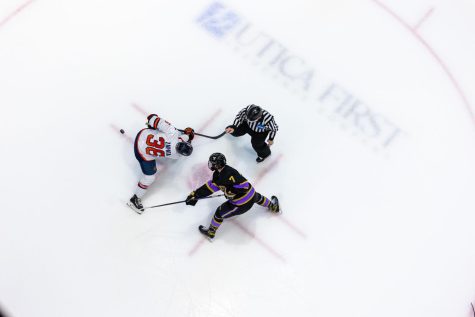 Still, Zapata had to earn trust. He did that by paying attention to what he calls an "undervalued" skill to have. Heenan now looks to him as a senior in the team to win faceoffs in big moments.
"He's a foxhole guy [and] the national leader in faceoffs with [Regen] Cavanagh and Herrmann right behind him," Heenan said. "[You] got to have those guys to win big games down the stretch" 
The game sheet spells out the player's performance in the faceoff circle, Heenan said. Utica's assistant coach Nicholas Therrien has watched Zapata's skills come to fruition. 
"Zaps has been coming through in big moments his entire career," Therrien said. "His faceoff skill is elite and plays a massive role in our puck possession game."
At the junior level, college players just take the draw and go, Zapata said. However, he understands that in those situations that was his task to do knowing it can change the outcome of the game.
"I love that job," Zapata said. "When it comes down to the wire if you can score a faceoff goal in a game just once you're probably going to win that game."