FROM THE VAULT: Georgiana Santullo becomes most capped women's hockey player of all-time
Georgiana Santullo enjoys a pregame coffee every now and then on game days. However, the D3 hockey star would tell you that pregame rituals can sometimes create mental blocks and cause distractions, having had one while playing in high school. 
These days, the approach is more business like. Two sticks ready for the game, 20 minutes of skating to get the legs moving, followed by a hot bath to get the legs fresh done three and a half hours before the puck drops.   
At 5 years old, she would play hockey with her older brother and other boys. This helped her develop a tough, unshaken playing style because they would throw her in the goal and shoot pucks at her.
To this day, her brother is still her toughest critic, along with her father who occasionally would bash her after games, letting her know things she needs to be better at.
Santullo developed confidence from the criticism and on Jan. 28, she smashed the all-time program record for most games played [109] with her 110 appearances, the most by any player in Utica women's hockey history. 
"[My family] was so happy for me," Santullo said. "They've watched all the behind-the-scenes of the last few years of how much work I've really put into it. For them it was one of those really proud moments for them just to see where I was when I could barely skate when I was so tiny to watching me do these amazing things."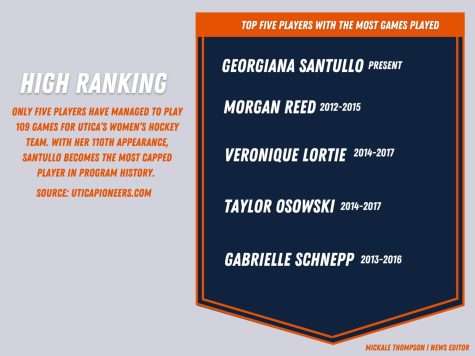 Women's Assistant Hockey Coach Madyson Moore joined the team in fall 2021 and said at first glance she could see Sanullo was a well-driven player that wanted to change from prior years and knew the level the program could get to. 
"When I got here she was looking for that next level," Moore said. "When I finally got hired and was brought on, that's when I saw on the ice a player that just wanted more after COVID and she's been proving it ever since. She's worked her tail off physically in the off-season, in season, and has relayed it onto the ice" 
With her milestone in sight, Santullo developed percent pain in her back early last November just a few games into the season from a movement during a team lift that she thought would potentially end her season. 
"I couldn't bend over, I couldn't really do much, I was very limited in my range of motion," Santullo said. "I was trying to do treatment for probably a month and I wasn't seeing any pain alleviation." 
After seeing a chiropractor and a physical therapist, she found out she had a bulging disc in her back as a result of her disc pushing down on her nerves, causing tingling and numbness in her legs. 
"As soon as I found out what it was I got into more of a treatment plan where I was seeing the chiropractor three times a week," Santullo said. "I was doing as much physical therapy with the trainer as I could to push [it] back into place." 
The everyday struggle of dealing with a potential season-ending injury and pain when trying to put her socks on created many obstacles. To overcome those challenges is all a part of competitive spirit, fellow team captain and senior Erica Sloan said. 
"Georgie is very competitive-she wants to win-as we all do [and] will do whatever it takes to win, and win as a team," Sloan said. "With her competitiveness, it makes everyone else around her get better every day."
The journey from beginning to end tends to sum up an athletics legacy. Some come for bragging rights, others come to break records. Santullo on the other hand came to Utica, not for the record books but to change the team's culture. She wanted to be remembered as a game-changer and a leader in the locker room for years to come. 
"My biggest thing was that I wanted to leap this program just a little bit better," Santullo said. [When] I became a captain I talked to my coach about how can we make this program better so everyone feels they have a role on this team and want to show up every day. What I've tried to do over the last few years is build the girls up to want to be here and want to be here for each other." 
As of Feb. 6, the team currently holds the number 12th spot on the USCHO poll rankings in women's division three hockey with an 18-1-2 record. The focus now in the camp and for the rest of the season isn't on individual accomplishments but on winning a title. 
"As cool as it is to have that record, our team right now is focused on winning a championship," Santullo said. "It's at the forefront of everyone's mind every day and that is the one thing we strive for every single day." 
According to Moore, the amount of talent within the team, along with a determined leader in Santullo, gives them a bright future this season. 
"She's our captain for a reason," Moore said. "She leads by example in her work ethic. We just gotta focus on the little things first and we'll get there."