Ice still runs in Kaela Mochak's veins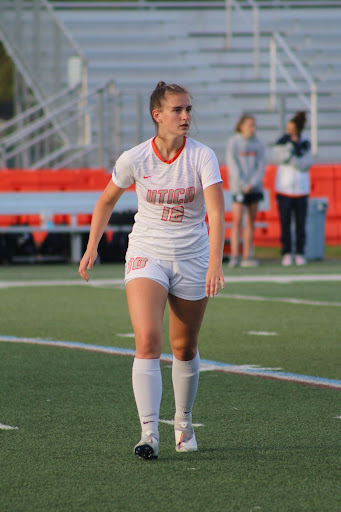 The Utica College Pioneers and the Alfred University Saxons were two heavyweight opponents throwing blows on Oct. 2, but neither team was able to get the knockout in regulation. That was when the Pioneers called on sophomore Kaela Mochak to put in her second game winning goal of the season to secure a 4-3 win.
Just 3:05 into overtime, graduate student Jacinta Kaminski found Mochak with the perfect connection with defense all over her. As the ball curled left, the crowd stayed silent until they saw the back of the net shift. Mochak proving for the second time, she has ice in her veins.
Back on Sept. 14, Mochak found herself featured on SportsCenter's Top 10 with her game winning goal from 35 yards out in a 1-0 win over SUNY Potsdam. Mochak continues to show up when it counts. 
Women's head soccer coach Brooke Barbuto has taken notice of Mochak's clutch time performances.
"She's a goal scorer," Barbuto said. "She loves finding the back of the net and she's such a positive influence and brings so much energy to this team. We're so lucky to have her."
Their last win pushed the Pioneers to 6-2 (2-0 E8), as they continue their quest for a third straight Empire 8 championship appearance, while the Saxons fell to 6-3-2 (1-1 E8) on the season. 
The clutch win has Barbuto eager to see what else this team can accomplish before the season is over.
"I'm very excited," Barbuto said. "I think we have a really good team this year and a really good ability to be successful in conference play."
Through the first 45 minutes of play, both teams showcased their offensive abilities by each scoring three goals a piece before the end of the half. The six goals combined in the first half would be the only ones scored during regulation time.
Leading the way for the Pioneers was senior Ro Hernandez, who found the back of the net twice, including one off a penalty kick. After this game, Hernandez had totaled seven goals on the season, which placed her in a tie for the second most in the Empire 8. 
"Those goals were extremely important and I think she's done a really good job creating a lot of scoring opportunities for herself and her teammates," Barbuto said. "Those goals have been great for her in carrying her scoring momentum into more conference play this year. She gets us the goals we need to be successful and to win games."
Kaminski, who was responsible for the game-winning assist, also found her own way to put one on the scoreboard, marking her third goal of the season.
In an attempt to change the pace of such a high-scoring game, both coaching staffs made the adjustments necessary to create a completely contrasting second half. For Barbuto, her message at halftime surrounded one word. Accountability.
"We just had more accountability in our defensive third," Barbuto said. "We made sure that our team knew their shape and positioning in the second half. Our team also did a better job adjusting to their offensive threats."
It was a tale of two halves in this game as neither team was able to add to the scoring total before the end of regulation. The Pioneers were fortunate enough to have Mochak find the back of the net to secure the overtime victory.
On Oct. 5, the Pioneers finished their three game homestand in a non-conference matchup against Union College. Despite Hernandez scoring her 8th goal of the season to now share the Empire 8 lead, Union defeated UC 2-1 in their first matchup since 2011. The Pioneers now fall to 6-3 on the year, with their next game on Saturday, Oct. 9 vs. Nazareth.