Utica College announces Casamento as Hutton's successor
Matt Rogers, Co-Editor-in-Chief
Utica College has chosen one of its own.
After months of searches, interviews, background checks and meetings, the Utica College Board of Trustees announced Monday morning in front of local media that Laura Casamento, currently UC's executive vice president and chief advancement officer, will become the college's ninth president.
"This is a special day and a historic moment in the life of UC," Vice Chairperson of the board John Caselini said.
Casamento, a west Utica native, becomes the school's first female president. She will be tasked with replacing Dr. Todd Hutton, who will officially step down on Aug. 1 following an 18-year-term.
"I'm thrilled and honored," Casamento said. "I'm thankful for the confidence the board has put in me. I look forward to working with everyone to ensure the good work of President Hutton continues."
Casamento beat out the other finalists, Laura Niesen de Abruna, provost at Sacred Heart University and Charlie McCormick, provost at Schreiner University.
A former bank president, Casamento arrived at UC in 2004, when she was named vice president for institutional advancement. She became senior vice president and chief advancement officer in 2009.
She stressed that her main priorities are two-fold; increase the school's retention rate while maintaining affordable education. Casamento also noted that she sees UC as an anchor institution for the region, and said UC will continue to partner with the region in economic development.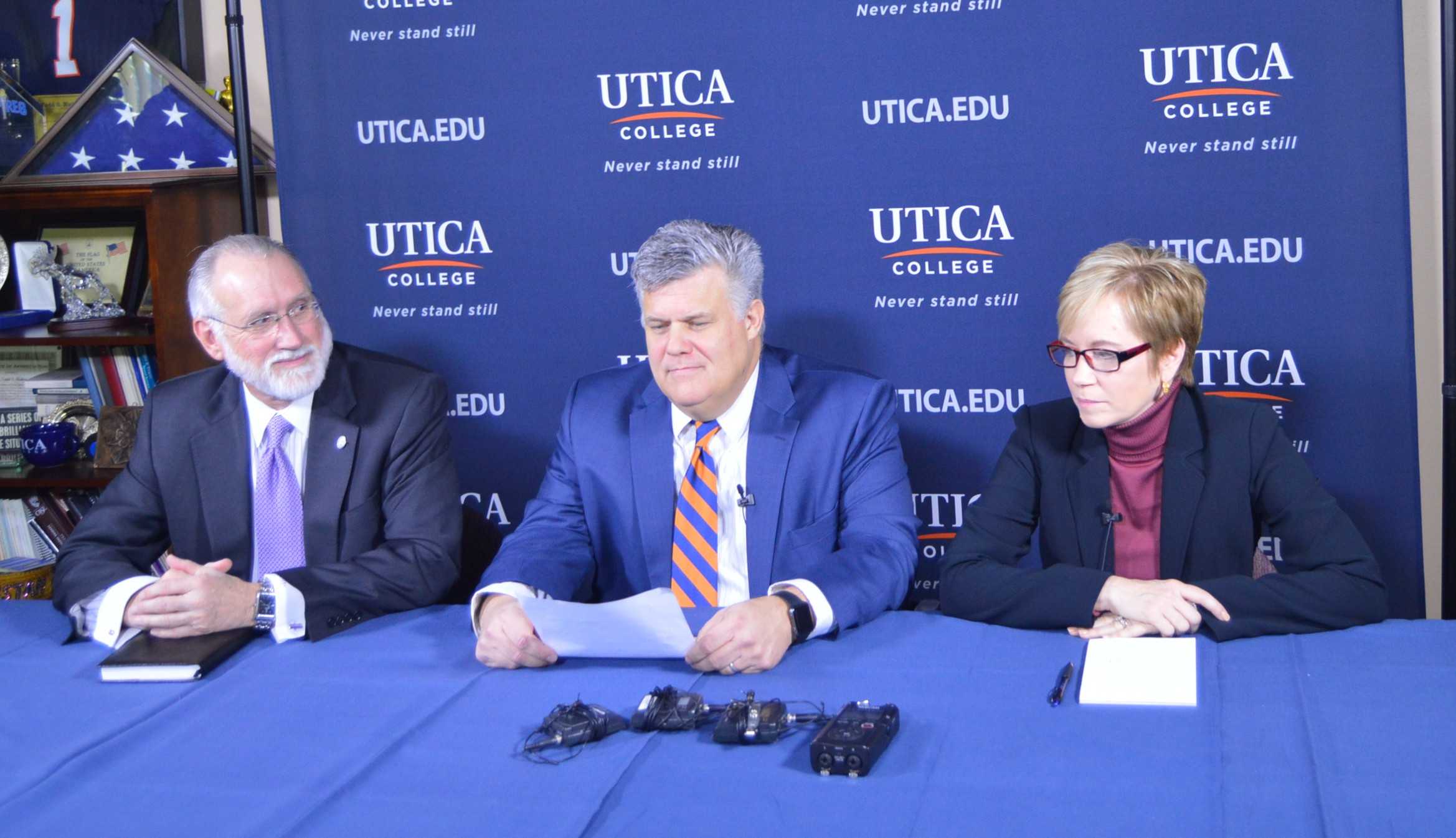 "I'm a life-long resident of the Mohawk Valley," she said. "I know how important Utica College is to the region and will continue to make sure that we solidify those partnerships well into the future."
Board of Trustees Chairperson Mark Pilipczuk was feeling under the weather, and was unable to attend the press conference, which included Casamento, Caselini and Hutton. He did release a statement however, and he believes Casamento is right for the job.
"Eleven months ago, when the board put together this presidential search, we were determined to find a dynamic, future-focused leader who could support and build upon the institution's current trajectory," he said. "The board strongly believes that we've found such a leader."
Caselini added a similar statement, hinting that Casamento's current role within the UC administration helped her candidacy.
"Laura has a deep knowledge of the UC community," he said. "She will continue the groundwork that [Hutton] laid to make UC a premier institution."
Though she is nearly six months away from officially assuming the presidency, Casamento is ready to get to work.
"[I want to] make my own stamp, my own difference," she said. "I can't wait. I can't wait to get started."