The Situation in the South
The second week of February has proved to be a change from the norm as severe winter storms blanket Southern states, including Texas.
Record-breaking low temperatures have resulted in seethes of ice slicking the roads and seeping into the Texas state electric grid operator. As a result, over 4 million residents were without electricity and several million more without access to tap water.
The severe weather has caused the deaths of over 58 people as of Feb. 20, with several related to the outage of power, carbon monoxide poisoning, house fires, hypothermia and drowning.
Transportation of over 6 million COVID-19 vaccines, which were pushed out early winter, has been stalled due to hazardous conditions. 
With several households out of power and in need the basic necessities, water distribution sites and food banks have been utilized. Even so, the number of water emergencies have climbed in larger cities, overwhelming distribution sites.
Even a week later, the repercussions of such a devastating storm are being felt. Buildings have been damaged, citizens killed and bare necessities being rationed out. Power companies are still working to repair the shorted lines.
The Political Decisions
Under the direction of former President Donald Trump, the United States left the Paris Agreement in 2019.
During his first day in office, President Joe Biden's signature was penned on an executive order to the United Nations declaring that the United States will be rejoining the Paris Climate Agreement.
The Paris Climate Agreement is an international treaty with a goal to limit global warming that was set in motion during 2016. In December of 2015, a 32-page document was released by the UN that solidified a skeleton for climate action on a global scale. 
"I think it's critical," said Dr. Sharon Kanfoush, a professor of geology at Utica College, about the decision. "We are still a world leader and have been responsible for a large portion of the change in the climate. We need to take part in this global effort because it affects not only producers but the entire globe."
Across the internet, there has been discontent with Texan Sen. Ted Cruz. Just as the winter disaster started creeping into his home state, Cruz boarded a plane to Cancún, Mexico for vacation. He cites the reason being that his daughters had asked for a trip after their school canceled classes in advance of the storm.
In a retweet from the Daily Caller, Cruz admits that his trip was "obviously a mistake" and that "In hindsight, I wouldn't have done it." He has since returned to Texas and given many interviews about the situation blustering his home state.
The Culprit: Climate Change
Over the years, the concept of climate change has been largely disputed. Defenders suggest that fossil fuels and man-made technologies have promoted a depreciation of the Earth's atmosphere, while opposers stand firm that no such thing exists.
Every four years, climate models are published by the Intergovernmental Panel on Climate Change that present predictions for future climatic events. These reports culminate in summaries that are given to policymakers and insurance companies. 
Despite policymakers and insurance companies alike being privy to environmental threats and global climatic change, change has been slow.
"Unfortunately, even though it's known to policymakers, two things are a problem," Kanfoush said. "One is it's nonetheless difficult to shift allocations of tax dollars from where they have been traditionally spent to the added expense of beefing up infrastructure. The second issue is that this topic has become highly politicized, which is really a shame because, in the scientific community, it is an extremely supported conclusion."
As evidenced by the wreckage in Texas, infrastructure is a key target for extreme weather situations. States pour money into the type of architecture associated with documented normal conditions and are left unprepared when rare weather conditions occur.
"What we have seen in Texas is a perfect example of that: they chose not to have the added expense of winterizing their power grid system, and they're paying a hefty price," Kanfoush said. "We're seeing it in our area as well in the summertime rainfall changes where our rainfall is in shorter duration and more intense. We're starting to have more flooding events more frequently that our infrastructure can't handle."
During 2019, the local areas surrounding Utica encountered vast floods from heavy rainfall. According to Kanfoush, it is likely that these types of events will become more frequent as time progresses. Heavy rainfall in the North, increasing frequency of tornadoes in the Midwest, and climbing strength of hurricanes along the coastlines are expected to build as a result of climate change.
Impacts of Climate Change
Climate change encompasses several parts of life that are often overlooked. Economic factors, such as tax dollars, are paid to the Federal Emergency Management Agency that is required to act when natural disasters occur.
Due to an average increasing global temperature, once thought eradicated diseases are likely to make a reappearance. Conditions from climate disasters may cause diseases to fester and medicinal transportation, such as the case with COVID-19 vaccines, to be stunted. Currently known diseases that are considered "contained" are also expected to travel along the latitude and altitude lines.
"I will say we've missed the boat for minimizing climate change as much as we could have if we started 15 or so years ago," Kanfoush said. "At this point, we are committed to a certain amount of climate change."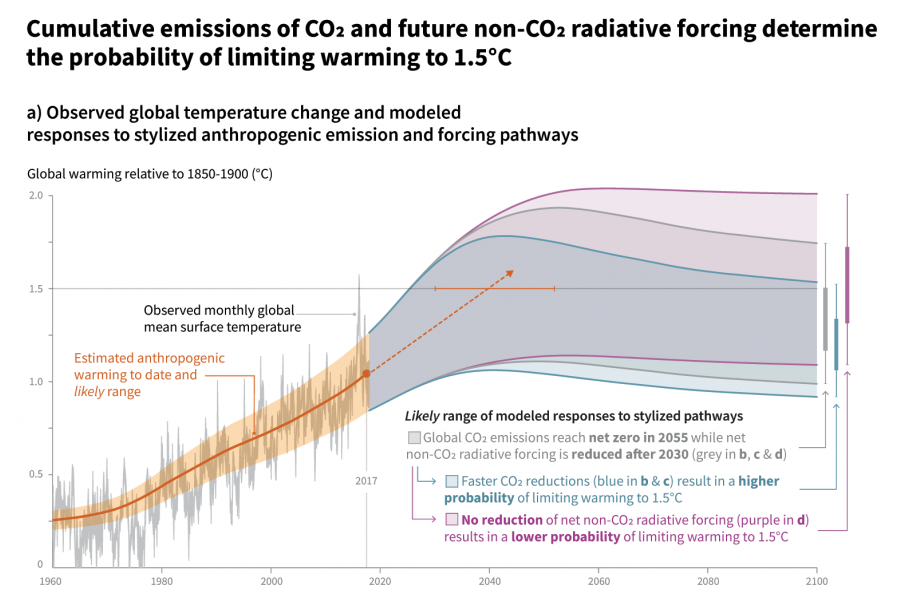 What Can We Do?
There are several ways that climate change threats can be decreased. Citizens can make minor changes to their daily routines that can culminate to combat the emission of greenhouse gasses.
Over the years, there have been a number of electric vehicles pushed into the market. Energy-efficient models of transportation, adequately insulated homes, reduction of water waste and unplugging appliances when they are not in use are a few ways anyone can fight climate change.
Simpler methods of 'going green' include cutting back on meat intake, preparing lunches with reusable containers and investing in plants to exercise your own green thumb. United States citizens have another tool at their disposal to combat the climate crisis: their voice.
"The biggest things individuals can do to help this issue is to consider it a priority issue when you go to vote," Kanfoush said. "We have so many pressing issues, and so it's easy for an issue like climate change to fall out of people's line of sight."