Addiction in the time of coronavirus: How COVID-19 affects addiction services in Oneida County
While the healthcare system is now focusing on combating the coronavirus pandemic, there is another epidemic that has been put on hold, yet is killing people every week: Opioid addiction.
In Oneida County, the coronavirus pandemic has not reduced the number of people facing addiction and overdoses. In fact, at least 30 people overdosed in April, according to the Oneida County Overdose Response Team. This is only a slight decrease compared to 35 people who overdosed in March. However, the real increase has been in the number of deaths; 12 in just April. That is 10 opioid victims more than in March or 1,100% increase since the beginning of the year. To put it in perspective, 17 people died of COVID-19 in April.
The rate at which opioids are killing Oneida County residents caused the county's Overdose Response Team to issue a spike alert on April 12, according to public officials.
While the reasons that have caused that spike are still uncertain, isolation might have something to do, said Beverly Fellone, residential director at Insight House Chemical Dependency Services in Utica.
Fellone said the feeling of loneliness and the stress associated with the pandemic can affect people's mental health to the point that they might be willing to abuse certain substances. This is because the coronavirus affects people of all ages and backgrounds. Even if they're not infected, there is still an impact on people.
The Centers for Disease Control and Prevention (CDC) has warned that the coronavirus is highly contagious and can be contracted anywhere. Contrary to the stigma surrounding addiction, people often start abusing substances as a result of an opioid prescription to treat a diagnosed medical issue.
How COVID-19 is changing addiction services
The coronavirus pandemic has caused most businesses to shut down, including addiction treatment centers. The way healthcare professionals provide assistance to patients with a substance abuse disorder now has to take other people's safety into account.
Insight House, which is a long-term medically supervised program, has stopped nearly all of its in-person sessions and transferred to offering their services over the phone. This change, Fellone said, has made counseling sessions more difficult as they cannot provide personalized attention to patients who need support. The human interaction is gone with telematic counseling.
"It's really difficult," Fellone said. "You can't see them, they can't see you. You can kind of feel people out, but it's not the same."
Normally, It is through in-person meetings that Insight House staff members can assess what kind of care an individual requires. These thorough interviews are now done over the phone, too.
The coronavirus has also had an effect on the number of people that are taken in for treatment. Insight House now hosts 28 patients, which is "kind of low," Fellone said, considering the facility has a capacity of 44 beds. Despite the coronavirus pandemic, the treatment facility is still accepting people, but they are taking all the precautions to prevent the spread of the virus, Fellone said.
This means that the residents and the staff have been quarantined since March, and patients are not allowed to leave nor receive any visitors although they can stay in touch with their families via social media.
"They understand this is for their own benefit," Fellone said. "That's why we encourage our residents that this is the safest place to be."
Fellone said patients and staff are taking the proper precautions such as wearing masks and disinfecting spaces.
Other rehabilitation facilities such as McPike Addiction Treatment Center in Utica are not accepting any more patients due to the COVID-19 pandemic. From 68 patients, now they are down to 20, said Peggy Koenig, registered nurse.
Among the residents and staff members that remained in the facility, the main changes have been strict social distancing protocols, Koenig said. This means staying six feet apart when they receive treatment and gather in groups.
McPike has also reduced the number of people who have access to the facility, including admission visits for people seeking treatment. The rehabilitation center is now doing a maximum of two visits a day.
"The coronavirus pandemic is affecting us because we can't take all of our patients," Koenig said. "So the ones that are out there we can't treat them at the rate that we usually do because we have to treat and keep the ones here safe."
A difficult path to rehabilitation amid coronavirus
For the people who have been left without necessary in-person assistance, their journey to achieve sobriety is facing more obstacles.
As a result of the COVID-19 pandemic and the following stay-at-home orders, which have closed most recovery centers, the relapse number and overdoses are increasing, said Katie Burns, certified peer recovery advocate at the Center for Family Life and Recovery in Utica.
"Anybody who is on a drug treatment that has been shutdown now has all this time to do whatever they want," Burns said. "The relapse rate as well as the overdose rate is consistently worse with fatalities just in Oneida County going up."
The National Institute for Drug Abuse defines the relapse rate as the chances that a person with a substance use disorder will return to abuse the drug after attempting to stop. In the United States, the relapse rate for people facing substance use disorders is between 40% and 60%, compared to the 50% and 70% of hypertension and asthma, the Study on Drug Dependence, A Chronic Medical Illness (2000).
Only in the week of April 30 and May 6, the Oneida County Opioid Task Force reported six people who overdosed and survived. Since the beginning of the year, Oneida County has seen an increasing trend in overdoses, which ended in 12 victims. This is the highest number of fatalities in more than a year. The last time the county reported a similar number of deaths was March of 2019 with 10 fatalities.
Still, even though overdoses have been somewhat consistent, they are becoming statistically more deadly. In March, two out of 35 who overdosed died. In April, 12 people lost their lives among 29 total overdoses.
While this might not necessarily mean that the COVID-19 pandemic, stay-at-home orders and rehabilitation centers reducing its service is causing a direct increase in overdoses and fatalities, Burns, who is part of the Oneida County Opioid Task Force, said there seems to be a relationship.
She said the main reason why people are overdosing more is because people are now more isolated and their entire routines have completely changed, especially since many of them have moved to online treatment and counseling sessions.
"There're not a lot of self-care options unless you can do that at home," Burns said. "Just having virtual groups is awkward. It's really hard to connect with (clients), and it's hard to find them because they won't answer our phone calls and if they do, it's in crisis mode where they don't have any food or clothes because they've been couchsurfing."
New overdose response protocols
Whenever there is an overdose, first responders follow very specific guidelines to ensure the patient's survival and safety. Now, the coronavirus pandemic is raising concerns about how to keep medical professionals safe when responding to overdoses.
Overdose situations are already potentially dangerous for EMT's who are the first ones to arrive at the scene, said Anthony Scalise III, Deputy EMS coordinator at Utica College. Besides the drugs in question, the patient may have used other methods to harm themselves, and might have weapons with them. That's why EMT's and arriving firefighters will await law enforcement to ensure the scene is safe.
Another risk EMT's run into when responding to overdoses is the post-Narcan administration because patients can become violent due to the medication blocking their high, Scalise explained.
"COVID has not particularly changed the way (EMT's) respond to overdoses," he said. "But it has changed the way we respond to all calls."
If the EMT's detect any indication of fever, shortness of breath and symptoms associated with coronavirus, Scalise said, they will wear an N95 mask, gloves, gown and eye protection. Even if the patient does not show signs of COVID-19 or any previous history or exposure, the EMT's will still wear appropriate personal protective equipment (PPE).
During an opioid overdose, the body's opioid receptors in the brain attach to the opioid itself. An individual who is overdosing will appear lethargic and show a decreased respiratory rate, pinpoint pupils as well as unconscious or conscious vomiting, Scalise said.
In that case, after determining the seriousness of the overdose, EMT's will administer naloxone or Narcan, which act as reversal drugs or antidotes. The medication will temporarily block the opioid receptor and reverse the overdose, allowing extra time to provide medical assistance, according to the National Institute on Drug Abuse.
While this life-saving medication can be administered into the muscle, it also comes as a nasal spray, which means there is contact with the patient's airway and the possibility of spreading COVID-19, Scalise said.
"We should be wearing appropriate personal protective equipment when performing any respiratory measures for our patients," he said.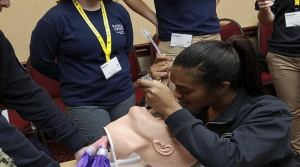 If a patient overdoses at McPike, they will receive primary care attention in the facility first, and eventually will be taken to a hospital, Koenig said.
The most common substances addictions that McPike staff treat are crack, cocaine, alcohol and some cases of K2 synthetic marijuana. The seriousness and risk of an overdose case will depend on the drug, but also the amount of the substance that has been consumed.
"In my experience, I've seen a lot of cardiac issues coming from crack cocaine," Koenig said. "Heroin affects your brain and depresses all of your systems. K2 affects temperature regulation, (patients) become paranoid."
At Insight House, the most common drug addictions there, Fellone said, are opioids, which include heroin, pills, methamphetamine, ecstasy. The rehabilitation center also offers treatment for patients with marijuana and alcohol addictions.
"Unfortunately, what happens is that people are not really sure what (drug) they're getting," Fellone said. "Obviously, the heart rate goes up and people might stop breathing and that's why we use Narcan, sometimes in our own parking lot."
When someone who uses drugs is also isolating due to the coronavirus, they may be less likely to receive medical attention and use naloxone to reverse the overdose.
Additionally, if somebody is not taking care of their health and is abusing substances, they might be prone to develop serious symptoms if they get infected with the coronavirus because their immune system is impaired, Fellone said.
The future of addiction treatments in Oneida County
As New York State plans to reopen some parts of the state after May 15, experts who seek to combat the opioid epidemic might not be able to tell the long-term impacts of the coronavirus pandemic on people with substance use disorders.
"I think that if we don't start opening clinics soon, it's just going to keep getting progressively worse," Burns said. "And when we do come back, putting those people under treatment again is going to be very hard."