UC Gets a Glimpse Inside The Civil Rights Movement
Marissa Filletti, Staff Writer
Matt Herron, famous for his work documenting the Civil Rights Movement, gave Utica College students, faculty and staff a glimpse into some of the most pivotal moments in U.S. history as part of UC's week of events to celebrate the life and legacy of Dr. Martin Luther King Jr.
"The hope for our democracy is in this room," photojournalist and community activist Matt Herron said as he began his presentation, "Mississippi Eyes: Shooting Civil Rights in the Deep South," in Macfarlane Auditorium on Jan. 20.
Herron made the decision to move his family from Philadelphia to Jackson, Mississippi in the early '60s. At this time, African Americans were fighting for their right to vote. Although they did legally "have" the right to vote, their voting fate depended on if they could successfully interpret clauses of the constitution and the definition of "successfully" remained at the discretion of a white registrar. This unfairness resulted in only two percent of African Americans actually registering to vote.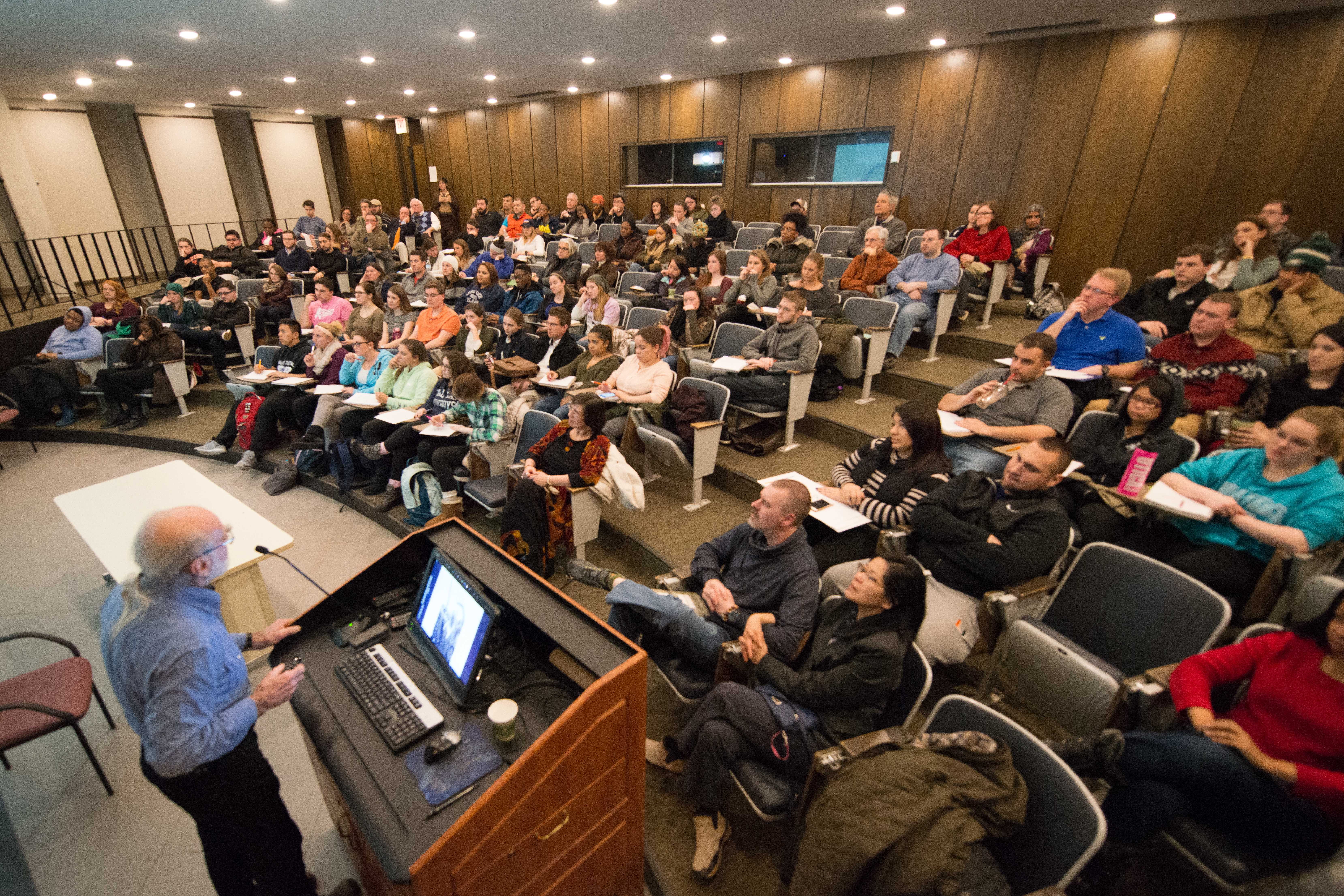 Herron knew that if he truly wanted to make a difference, he needed to be in the center of it all. From there, he devoted his life to documenting the milestones made toward equality for African Americans in the U.S. and organized a team of photographers to document the civil rights movement during the summer of 1964.
"45 miles and I walked the whole way backwards," joked Herron as he spoke of his experience photographing the infamous Selma to Montgomery march.
Herron presented some of his favorite photos, those that captured the courage of the common people, as he explained, "Dr. Martin Luther King Jr. was not the center of the Civil Rights Movement."
Just as each person has a story, each photo had a story. One of Herron's favorite shots was that of a courageous 8-year-old boy who stood on the sidewalk with a sign that read, "One man one vote. Register now."
Even though the boy knew that he would be arrested, he didn't stand down; and the next photo showed the police coming to arrest him.
Similarly, Herron showed photos and spoke of a woman he followed throughout the march. Her shoes were torn and ruined, but he explained that this never hindered her determination as her contagious smile and positive energy always prevailed.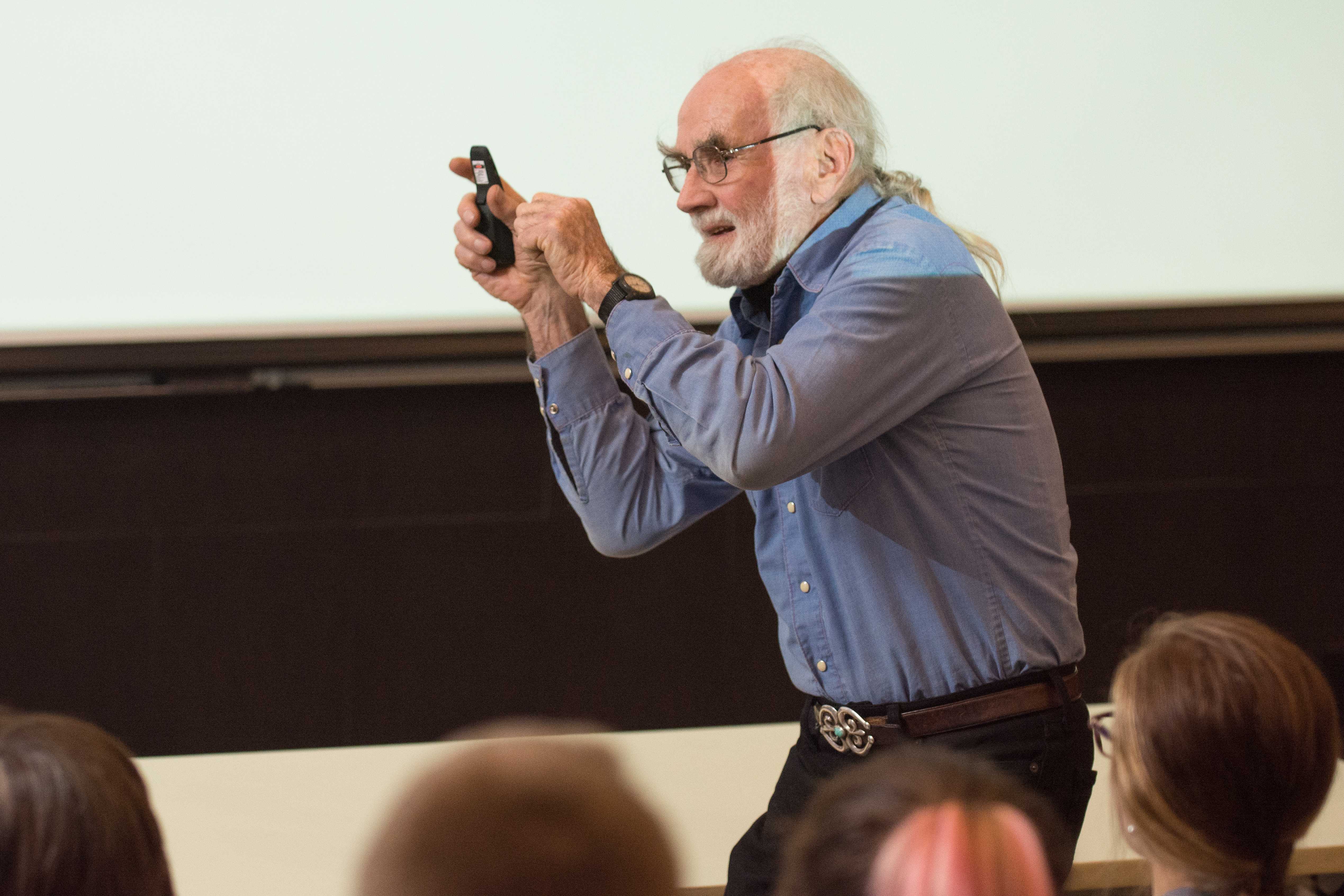 "Seeing the pictures made it more real," sophomore Ann Ciancia said. "You don't get to see the facial expressions. You hear about the speeches but it was amazing to see and hear the stories of the common people that were really the backbone of the movement."
Alane Varga, dean of diversity and student development, felt that Herron's visit to campus was just what the UC community needed in order to better put this event into perspective.
"So often we think of history as something that's dead, over and removed from us. It becomes almost iconized and there is one version of it that we learn," Varga said. Matt is somebody who has not only photographed that time in history, but has lived it and experienced it first-hand. Seeing his photos and hearing him speak is an incredible learning experience for our students."
"This photo stands for how I hope this country will end up someday," Herron said as he showed his final photo of two small black and white hands joining together. "We aren't there yet, but we are getting there. Human liberation is not a goal, it's a path. Don't get discouraged by the small progress you make. You are the ones that are going to continue to bring about change."
Featured photo by Kevin Montano.