Students register to vote, fulfill their citizen 'rights'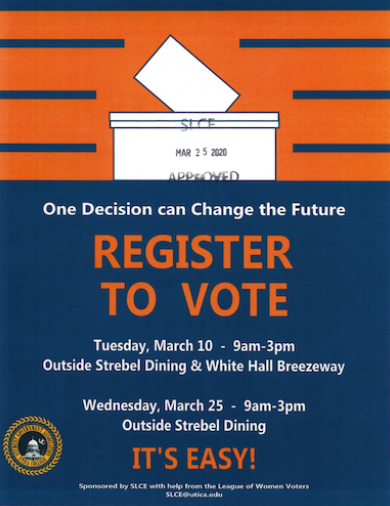 Emmalyn Ylaya, Tangerine Clerk
Are you registered to vote? Do you want to register to vote? There are two upcoming opportunities where students can take part in this on campus.

The first chance for students to register to vote is on Tuesday, March 10 from 9 a.m. – 3 p.m. in the White Hall Breezeway and outside the Strebel Dining Commons. The second date is on Wednesday, March 25 from 9 a.m. – 3 p.m. outside of the Strebel Dining Commons only.

Students should present a form of identification when they register.
Senior Samantha Miller and other students at UC already were registered to vote and realized how vital the voting process is in a democracy.

"Voting gives people the opportunity to voice their own opinions," Miller said.

Although Miller said she does not follow politics she recognizes that voting is significant, as it is a human right for all citizens.

Senior Joe Alles said he is registered to vote because it is his right.

"It is important to vote because it is our responsibility to voice our own opinions," Alles said.

Freshman Kelsey Figler is also another student registered to vote and believes that the right to vote is a big deal for the country.

"I feel like voting is important because it can set up what happens for the people in our country," Figler said. "It can make a difference on what could happen to the country and in the future."
Keeping in touch with the news is one way students can educate themselves about politics and what is currently happening in America's political climate.

"If students check the news more often, then they could see what is going on regarding politics," Figler said.

Whether it is on the internet or a news outlet on TV., many times viewers can see these sources discussing topics like voting. Alles said he believes that students should read the paper and watch the news in order to keep up to date with current politics.