Free Yoga sessions begin at the art gallery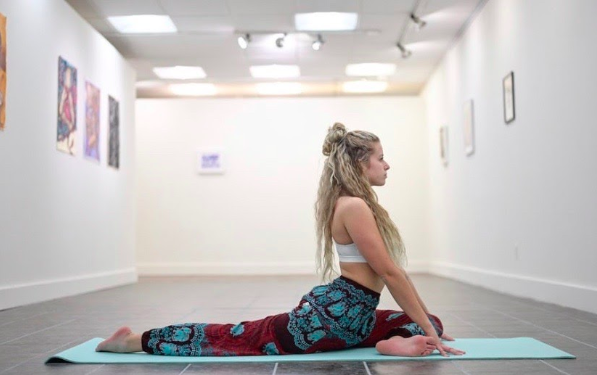 Emily Beck, Staff Writer
On Feb. 27, the Barrett Art Gallery hosted its first-ever free yoga session for the Utica College community. With midterms approaching, some students might look for opportunities to destress and yoga could be one of the options.
Art Gallery Director Mario Colón said he picked free yoga sessions for students, faculty and staff because it is one of his personal favorite fitness regimens.
"It tends to center me and gives a great workout," Colón said.
Colón said he knows from personal experience that yoga helps with anxiety and overall health, therefore, he thought bringing it to the students at Utica College would be ideal.
"Sometimes we just carry a lot of stress and we forget to move around our breath and let things go," Colón said. "I wanted to offer the community here at UC an opportunity to enjoy the beautiful artwork that we offer in the gallery and simultaneously let go of physical stress. It's all about exercising both your mind and body."
This is not Colón's first time hosting something like this. He said that the last school he taught at implemented a similar program for the students.
Senior Taylor Marshall will teach the yoga sessions. She recently received her 200-hour yoga certification and said she loves living a healthy lifestyle while inspiring others to do the same.
"Being able to teach a physical form of art within a gallery filled with talented artists is what makes this experience so unique," Marshall said. "The energy every time you walk in is filled with hope, originality, creative minds, a place for a new piece of work to be created with every one of my classes. Every class that's done, everyone is a piece of the puzzle that makes each class a special piece of art."

Junior Linnea Bush said she is looking forward to future yoga sessions with her friends.
"I have a lot of work with my major so I would love to do yoga to help ease my stress," Bush said. "I also know who Taylor is and she is really awesome. She is the perfect person to teach the lessons."