Ending Black History Month on a high note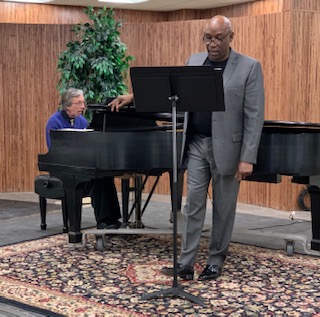 Gianna Cognetti, Features Editor
Concluding Black History Month, David Moore, coordinator of the Lunch Hour Series, dedicated a musical performance to musicians William Warfield and Paul Robeson on Wednesday, Feb. 26.
Moore said Warfield was a graduate from Eastman School of Music and began his singing career in 1950. His career gave him many opportunities from teaching music at the University of Illinois at Urbana-Champaign, becoming Chairman of the Voice Department, singing with the Philadelphia Orchestra and the New York Philharmonic to even appearing on screen in acting and poetry.
Robeson was not only a musician but also was known as being an activist during the Harlem Renaissance. He was the third African-American student to enroll at Rutgers University and from there he went on to graduate from Columbia Law School. His achievements include acting, a professional concert artist and recitalist, lawyer and a social activist regarding the barriers of racism he had to overcome.
"He brought Negro spirituals into the American musical mainstream," Moore said. "His performance on stage in London as Shakespeare's 'Othello' is widely considered 'the' quintessential performance of that character."
Three featured performers, Gregory Sheppard, a bass-baritone, Sar-Shalom Strong, a pianist and Rosee Head, a violinist, performed in honor of Warfield and Robeson.
Gregory Sheppard is a Syracuse native and participated in many opera roles throughout the country, including the New York City Opera, Dayton Opera and many others. Continuing his success, Sheppard also appeared in concerts, recitals and symphonies in the U.S. and abroad in Germany, Austria, Finland, Italy, Costa Rica and London. His talents brought him to receive the Metropolitan Opera National Council Award and Study Grant along with many other prestigious awards.
Having the performance dedicated to Warfield and Robeson means a lot to Sheppard. He said how they are often forgotten in the music industry and their talents are very inspirational.
Sar-Shalom Strong is a co-music director of the Society For New Music and is best known as a soloist and collaborative pianist. His wide range of talent has introduced him to collaborating with many international artists, first-class musicians, appearing as a soloist in local symphonies and playing in the Skaneateles Festival. He was a judge in 2012 for the Humans in Space Youth Art and Music Competition, sponsored by NASA, along with many other opportunities. Currently, he is a lecturer in piano at Hamilton College.
Strong said he recalls Warfield and Robeson as wonderful musicians and singers.
Head is a junior at New Hartford High School. Although she is young, she has already been performing at advanced levels. From joining the Syracuse Youth String Orchestra in sixth grade to being selected to attend the Sphinx Performance Academy in seventh and eighth grade, she has gained a plethora of experience for her age.
She said dedicating the performance to Warfield and Robeson was good for the community and provided a great impact on those attending.
"It is really inspiring," she said.
More opportunities came her way as she continued into high school. She participated in the Carnegie Foundation's NYO2 program and received a full orchestral scholarship in the Interlochen Arts Camp. She has been invited to perform at local churches, nursing homes, community events and veterans outreach centers.
In the future, she said she hopes to continue to study violin performance and proceed in the industry.