Do you remember when you were a freshman?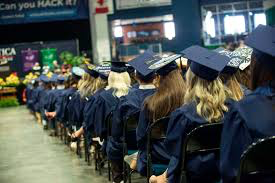 Emily Beck, Staff Writer
As the final semester for the senior students is approaching, graduation is right around the corner. Some seniors now reflect on all the experiences and the advice that helped them through their years at UC and express what they wished someone had told them when they were freshman.
Senior Communications and Media major Sarina Cannovo gave some advice regarding classes and the importance of communication.
"Go to class and try to make the most of the classes you're taking even though you may not like them," Cannovo said. "Talk to people, network, be social in and out of the classroom."
Throughout college, interacting with other students and focusing on developing your skills will be beneficial for after graduation, according to Cannovo.
"College definitely improved my communication skills with different types of authorities and people," she said. "Don't be afraid to mess up since college is a long journey and it's all about growing as a learner and person in general." 
In addition to developing networking and communication skills, Psychology Child Life major Emily Loeschner said getting ahead on the academic path is crucial for freshmen to consider. 
"Getting one bad grade will affect your gpa," Loeschner said. "It is important to try and keep your grades up. Staying on top of your work will help do that."