UC Braces for Winter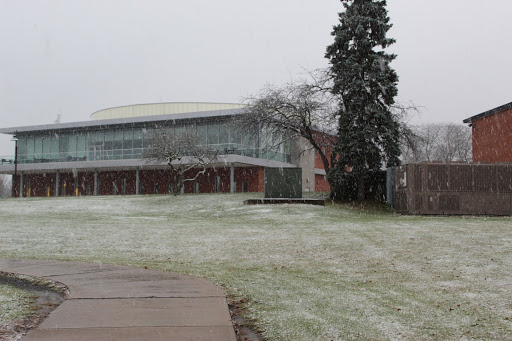 Debra Born, Staff Writer
Winter has started early in Central New York and the Facilities department has been busy clearing snow and ice off of campus sidewalks and other walkways, roadways, parking lots and stairwells.
Shad Crowe, director of emergency management, emailed UC students, faculty and staff "important information relative to Utica College inclement weather procedures, cancellations and closures, and recommendations to navigate difficult weather." The email encouraged the UC community to take safety precautions during the winter.
"In the coming months, classic NY weather will challenge us at times," Crowe said in the email. "We will do our best to brave this change in weather and persevere through it."
The email also cautioned the UC community on navigating campus during poor weather conditions and slippery roads and walkways.
"Utica College grounds personnel work diligently to remove snow and ice from campus," Crowe said. "However, dependent upon the rate of accumulation, it may be difficult to keep up with falling snow and other precipitation. We ask that you take extra precaution and be sure to wear appropriate footwear for the weather conditions."
Dan Bollana, executive director for facilities planning and operations, oversees the department's snow removal efforts and stated that the weather forecast is closely monitored.
"For the building systems, maintenance go around before winter to make sure the furnaces and boilers are operating correctly."
Dustin Pritchard is the grounds supervisor in charge of coordinating the manpower needed for snow and ice removal. Pritchard also checks all the snow removal and sanding equipment to make sure it is working. He also orders the salt, sand and calcium to melt ice on walkways and roadways.
"We use the calcium because it melts at a lower degree than salt," he said. "It's safer on the doorways and the asphalt."
Bollana and Pritchard explained that the raised floor of the library concourse gets icy quickly, which makes it difficult to keep clear. The library concourse outside the doors has a floating raised floor that rests on styrofoam blocks on a roof. The air from underneath the floor rises and more liquid accumulates. Also, the light floorboards require lighter-weight plowing and sanding equipment.
Pritchard organizes seven grounds workers that are in charge of maintaining clear walkways and roadways for the entire campus. If it snows after the last shift ends, more workers are called in to remove snow. Between December to April, Pritchard spaces the workers out for 24-hour coverage.
The morning starts with the staff clearing the stairwells and then the workers circle the campus loop to remove snow and salt walkways.
"By the time you make the first loop all the way around campus, it is hard to keep up," Pritchard said. "Icy walks are not something you hit once; the walks can get drifted back in."
This month, the snow was flying before lacrosse and football practices, which meant clearing the stadium and the field.
"One of the challenges is making sure to keep up with removing the snow that falls off the dome," Pritchard said. "It's constant. We have to keep the snow away from that wall."
Pritchard said the dorm parking lots can be a challenge to clear because cars are parked there 24 hours a day. Facilities coordinate with the Residence Life to shift cars into different parking lots to make room for lots to be cleared one at a time.
Brenna Lyons is a local commuter and said she is used to the winter weather in New York. She said the UC parking lots are sometimes covered with snow.
"Usually everyone's parked like crazy because the lines in the parking lot are covered," Lyons said. "People take up more than two spaces when there is not enough room already. It's slushy, too."
Lyons said the parking lots are "still so messy," although she said the workers try to keep up with snow removal.
"They try, but they need better machines," she said. "I slide all over the parking lot sometimes."
Holly Kalio, nursing senior and commuter, agreed that the parking lot is difficult to navigate during the winter.
"They definitely need more workers; the parking lot is never all clear," Kalio said.
The email from Emergency Management stated in bold that, "Utica College rarely cancels classes or closes offices." Some students disagreed with the college's procedure to "rarely" close campus.
"They don't take into consideration that most people drive here," Lyons said. "Most people live off-campus. I think they should close school if that [snow/ice accumulation] happens and they don't clean it up."
Senior Mckayla West is used to driving in most types of weather because she has a 50-minute commute to campus from her home north of Boonville. She has been commuting to UC for the past two years after she transferred from her community college.
"I get stuck behind clouds sometimes and it takes me longer to get here," she said. "I've experienced bad weather a few times."
West has mainly had positive experiences with winter driving and parking on campus.
"There's only one time I'd had trouble with the UC parking lot," West said. "It was just chaos, with people parking over the lines.
Crowe's email cautioned students to communicate with their professors when they cannot make it to campus,
West said she has had to miss some classes over the years due to weather conditions. Other times West's drives home have taken twice as long because of the weather.
"You just have to be smart about it and plan for being slower," West said. "It's basic North country common sense snow driving."
Crowe included contact information in case an area of the campus became unsafe.
"Members of the College community are asked to notify the Office of Facilities Management at (315) 792-3191 or Campus Safety (315) 792-3046 as soon as possible if they notice any potentially hazardous conditions," according to Crowe's email.