UC Members Share Thanksgiving Traditions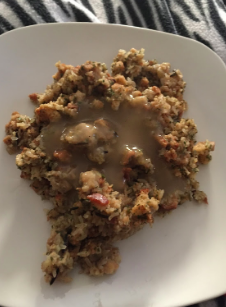 Emmalyn Ylaya, Tangerine Clerk
Celebrating the blessings of our daily lives is something that could be done any day, but Thanksgiving is a holiday to remind us of the many things to be thankful for. A plethora of events happen on this holiday such as the Macy's Thanksgiving Day Parade in New York City, the National Dog Show after the parade, the preparation of large meals, families reuniting together and people expressing gratitude for the simplicity of life.
Some students, faculty and staff look forward to certain traditions shared with their families.
Senior Julia Peters said she spends Thanksgiving by preparing desserts and food while watching the Macy's Thanksgiving Day Parade and the Purina National Dog Show that follows it.
"The dog show is my favorite thing to watch on Thanksgiving," Peters said. "I love waking up to Macy's Thanksgiving Day Parade with the smell of coffee lingering from the kitchen."
This year, Peters said she plans to continue the tradition and visit her family gathered at her aunt's house. While she is there, she eats at least two servings of food and watches football for the rest of the day.
"Everything we eat is the usual list of foods everybody makes on Thanksgiving," Peters said. "One special food that I always look forward to is dumplings. My family makes a lot where we would freeze them and have some for Christmas as well."
Assistant Sociology Professor Nile Patterson said he plans to do a lot of traveling for a Thanksgiving celebration this year.
"I will fly back home to Louisiana to celebrate with my family," Patterson said. "I will also travel to my parents' house and celebrate the holiday with them and my sister."
When it comes to food, Patterson said he eats fried turkey, green beans, artichoke casserole, honey baked ham, dressing and pecan pie.
"As a family, we gather together and have a meal near the middle of the day," Patterson said. "In the past, we have gone to the Bayou Classic a few times during Thanksgiving weekend."
Patterson tunes into the Macy's Thanksgiving Day Parade on television while eating, however he would never desire to see the parade live.
"I like the upbeat nature and sense of community around this event," Patterson said. "Even though I have never been to the parade, I don't plan to attend it. It's too cold to stand outside for hours."
Unlike Patterson, some people do decide to attend the Macy's Thanksgiving Day Parade in person and watch as the floats and balloons glide down the street. Despite chilly weather conditions, it is quite the experience to attend the parade at least once.
Senior Gianna Boone's Thanksgiving traditions involve gathering with friends and family to devour a traditional Thanksgiving meal and simply enjoy the company that surrounds.
"I go to a family member's house and cook soul food," Boone said. "I enjoy waking up early to prepare meals and watch everybody eat at dinner time. I eat macaroni and cheese, candied yams, collard greens, stuffing, potato salad and my favorite dessert sweet potato pie."
Boone will also be visiting New York City to celebrate Thanksgiving with more family members, however decides to keep warm inside while the parade is in session.
"I don't really like the cold weather so I choose to stay inside during the parade," Boone said. "While I'm in New York City with family for Thanksgiving, we will probably just eat and play board games."
Assistant Anthropology Professor Laurah Klepinger will be traveling from New York to Michigan to celebrate with her family. As a Thanksgiving tradition, her family hosts a large crowd every year with a Thanksgiving meal.
"My family provides turkey that is pastured raised from a local farm," Klepinger said. "There's also some family basics like mashed potatoes, gravy, corn casserole, creamed onions and cranberry relish."
Klepinger attended the Macy's Thanksgiving Day Parade approximately 10 years ago while living in New York City. She made a Thanksgiving meal shared between her and a friend. However, visiting family and friends still remains her absolute favorite part of the holiday.
"During that time, I cooked a large turkey for myself and my best friend," Klepinger said. "We ended up having leftovers for ages."