Students check out Banned Publications at Banned Book Read-In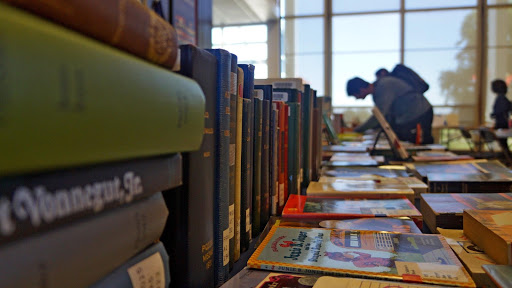 The event brought attention to issues of freedom of speech and censorship.
The annual Banned Book Read-In was held on Sept. 25 but extended the whole week to celebrate free, uncensored reading. The fair included roughly 300 banned books from the Utica College library and from personal collections that people brought to showcase.
Kim Landon, professor emerita of journalism, founded the annual UC event in 1992. The event recognizes that books all over the country and around the world are challenged and banned, censoring the author and any message or story they wish to tell.
The Banned Book Read-In is a yearly opportunity for students to become involved and see which books are banned by institutions all over the United States. At the event, students have an opportunity to learn why individual books got banned and to read them.
Many UC faculty and staff members strive to give students as many tools as they can to help them grow and learn, including to never challenge or ban a book at Utica College.
"Simply put, the banning of books is the silencing of ideas," said Jannis Winn, Utica College librarian. "College students can't learn about new ideas and perspectives, nor can they learn to form their own opinions on an idea or issue if the books containing those ideas are not available to them."
Many books on hand at UC's event were banned from public and school libraries, as well as bookstores. To the surprise of many people, a lot of the books that get challenged or banned are often widely read books such as the Harry Potter series, the Captain Underpants series and even Where's Waldo. New books are constantly added to the banned books list, which blocks access to entertainment and information. There is no pattern for books to be added to the list, many books become "illegal" even after mass numbers of people have read them.
Senior John Blashke goes to the Banned Books Read-In every year.
"I think it is really important for people to exercise their freedom of speech," he said. "I read the very end of my favorite book 'Slaughterhouse-Five' by Kurt Vonnegut, which I think it is a great book and shouldn't be banned."
Such books, like "Slaughterhouse-Five," were banned from Michigan public schools in 1972 because it was accused of being depraved, immoral and vulgar, along with other concerns. Many of the witchcraft-heavy Harry Potter books continue to be banned each year in private Christian schools and other organizations.
"While we are interested in, and talk about, books that have been banned throughout history or various libraries and other entities, it's more about a celebration of the freedom to read," Provost Todd Pfannestiel said.
The provost considers banning a book for any reason to be unethical.
"It is never right to prohibit someone from having an opportunity to read any material," he said.
This annual event displays books that many people know and love and even consider to be "normal," but end up becoming banned.
"I think it's important because while education is happening in classrooms, labs and studios, events like these provide an opportunity for other offices around campus, such as the library, to share in that education because learning happens in many other venues than the classroom," Pfannestiel said.
"A few years ago for Banned Books Week, the American Library Association chose for its theme 'Think For Yourself (And Let Others Do the Same),'" Winn said. "I still believe this is the most important message regarding censorship and the banning of books."