UC Selects Musco Millner as Campus Safety Director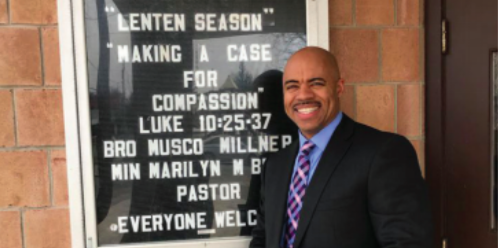 Following the retirement of former Director of Campus Safety, Wayne Sullivan, came the selection of Musco Millner to fill the position.

Before coming to UC, Millner worked with the New York State Police for 26 years.

He was also a substitute teacher at the Rome City School District, taught math at Mohawk Valley Community College, worked at Taco Bell and Ames, was employed by the Monroe County Sheriff's office as a sheriff's deputy.

Besides his job as Campus Safety Director, his role at UC also includes working as an adjunct professor of mathematics at UC, where he will be teaching intermediate algebra next spring.

According to Millner, that is a way for students and faculty to see campus safety in a different platform.

"It gives me a chance to build relationships with students in a place that I am comfortable and in a place that they are comfortable," Millner stated. "I think it would be more comfortable engaging and conversing with me in a classroom, or in the weight room, or on the basketball court than in the campus safety office."

When he finished his work with the state police, Millner said that he built his resume to make himself more employable. Even though he said he had a great journey with them, he added that that part of his life is behind him.

"This (UC) is close to home so nothing really changed for me," Millner said. "I did not have to move, my wife works right down the street, my mother's not far away from here so it is just the right fit at the right time, and prayerfully, I am the right person for what this college needs."

Millner said he looks at this position as a ministry. He is looking to learn about what students value and is looking to learn new things. He has his own vision on what a campus safety unit should be doing, starting with professionalism, being proactive, engaging and just having the courage to hold a conversation with someone.

"I'm looking to be a bright spot in this big wheel, and hope it pours into the students, Millner said. "I had to learn how to be a captain, that didn't happen overnight. I would like students and faculty to look at campus safety and say "'they're doing it the right way.'"

Millner said that you cannot be surprised when controversial issues arise on campus.

"The time to get to know someone is not during the issue times, the concern times," Millner said. "You should already have those relationships developed, so when we show up, they trust us, they know we are there for the right reasons and for their safety and the safety of others."

Millner said that it is up to Campus Safety to shine hope on to that situation by any means necessary. Everything needs to be a learning encounter on both ends, he stated.

"If you bring fire to a fire, you are going to get an inferno," Millner said. "I'm a firm believer, that love will conquer all and I want them to show up and demonstrate the caring and compassion."

Millner said that he has a big heart, is not two-faced and considers himself to be transparent.

"People that have known me for 49 years know that that is the same Musco from high school, that is the same Musco from college, that is the same Musco from 1993 when he was a young trooper, and he left in 2019 and he's the same guy, he didn't change," Millner said. "This mission is about what God has blessed me with; a chance of being something great, and I embrace that, it's not about me."
Senior Joel Kaigler is a leader in UC's Emergency Management Club. He had the opportunity of meeting Millner through a certification class.

Kaigler said that he is very happy with the way that Millner plans to run Campus Safety.

"He is very open and wants students to succeed in life," Kaigler said. " His philosophies are amazing and I know he will improve the relationship the students have with campus safety."

Kaigler said he believes Millner is a perfect fit for the college community.

"I know he will do the right thing," Kaigler said. "After hearing him speak, I have complete trust and faith in him as a director of Campus Safety and I'm very excited to get to interact with him through the Utica College Emergency Management club."

Assistant Professor of Criminal Justice Gregory Walsh worked with Millner in their careers with the New York State Police. Walsh said he could not be more pleased with Millner being selected as the director of Campus Safety.

Since Millner has been an adjunct professor in the mathematics department, Walsh said students have already enjoyed how personable and engaging he is in class.

"While encouraging, mentoring, and supporting his students, he also holds them accountable, which is just what our UC students can expect from him as Campus Safety Director," Walsh said. "He is already working hard to get to know as many students as he can, so students can expect to see him all around campus, including the gym."

Millner said that with the New York State Police, he impressed his fellow troopers and supervisors immediately.

He also stated that his performance led to a quick promotion to investigator, assigned to the Forensic Identification Unit, which has the critical responsibility of evidence collection at the most serious crime scenes, such as homicides.

While Millner was in that assignment, him and Walsh often worked together directly. It was not long before he was promoted to lead that very important unit, with the title of senior investigator, which is one of the most respected ranks in the state police.

According to Walsh, "Millner was very well-respected by the central New York law enforcement community and is well qualified for his new position."

"He possesses excellent leadership and communication skills, and I am confident the college community will enjoy interacting with him," he stated.

Walsh said he believes that Millner will be an important asset and resource to the campus community.

"He is a role model, and I hope students go up to him to introduce themselves if they see him at an event or passing by," Walsh said. "He will be glad they did, and I suspect the students will be glad they did, too."