Burgmaster Heads to Brockport After 14 Years at UC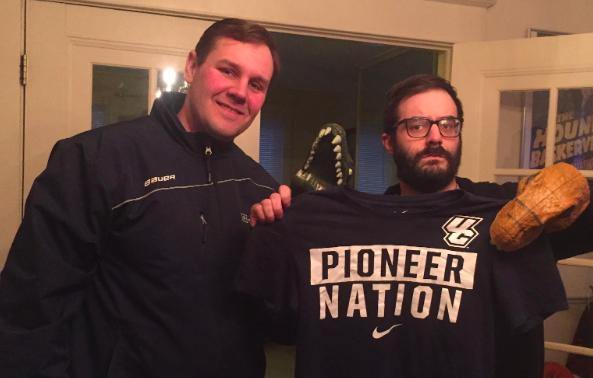 Former Athletic Director for Sports Information and External Relations Gil Burgmaster has joined Brockport after 14 years of service at Utica College. Burgmaster accepted the position of Director of Athletic Communications and Media Relations at The College at Brockport.
During his time with the Pioneers, Burgmaster took on 26 sports hosting hundreds of athletes from all around the world. The Spencerport native arranged a sponsorship deal with Nike for Utica outfits and recently saw redesigns to the Clark Athletic Center.
Physical Education and Athletic Director David Fontaine expressed the progress athletics made as a whole during Burgmaster's tenure with the college.
"Gil made our sports information department what it is today, one of the best in NCAA Division III athletics," Fontaine said. "He put countless hours into promoting our student-athletes on our ucpioneers.com website and through multiple social media platforms."
Burgmaster helped push the Pioneers' social media to a top 15 ranking among all Division III athletics programs across the country.
Fontaine also remembers Burgmaster's quality as an employee and the time he put into the job and athletics at Utica College.
"An 80 hour work week during the academic year is the norm," Fontaine said. "Gil put in his time, produced great results and was always appreciative of the opportunity. A great colleague who always did it the right way."
Along with his responsibilities here at UC, Burgmaster held an array of positions across the NCAA including the Women's Ice Hockey National Committee and the Women's Lacrosse Regional Advisory Committee to name a few. Burgmaster also held a chair on the Utica College Pioneer Hall of Fame Committee.
According to Fontaine, Burgmaster's departure is a huge loss to the athletic department. However, the current athletic director notes that in order to maintain success, athletics has to keep moving forward.
"It's a void that will be difficult to fill," Fontaine said. "The value he brought to our department spanned far greater than sports information.  However, we must still move forward and maintain the success he worked very hard to create."
Men's cross country head coach Sam Catterson also notes the loss for the department but believes Utica can find a replacement to fill Burgmaster's shoes.
"The sports information department will have to work very hard to continue to create the same volume of content that they were making under Gil's leadership," Catterson said. "Gil was extremely supportive of our cross country program, we will miss his support but are confident the department will step up and fill his shoes."
Catterson even compared Burgmaster's efforts here in Utica to Division I athletics.
"Gil had a tremendous impact on the Utica College athletic department," Catterson said. "Utica College has one of the best sports information departments on any college in New York, often better than Division I schools, this is a result of Gil's leadership and hard work."
Fontaine also compiled a list of qualifications needed for any interested applicant.
"Someone who has experience in collegiate sports information and has knowledge of covering 26 sports," Fontaine said. "Someone who is hardworking, competent, has the demeanor to deal with stressful situations and is professional in their approach.  Someone like Gil."
Catterson agreed and noted that someone replacing Burgmaster has to be truly invested in what has been built already for the Pioneers and the trend will need to continue in the future.
"Gil's replacement needs to be knowledgeable, passionate about sports, and invested in the success of the Utica College athletic teams," Catterson said.