Seniors Talk Post-Graduation Plans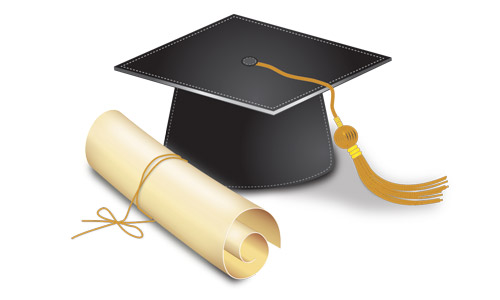 With only weeks until the end of the spring semester, this year's commencement ceremony is just around the corner. But with graduation, there often comes many mixed emotions.

Some are happy to be done and to get to their first job, while others are nervous about what life will bring them.

Executive Director of College Events and Conference Programs Joni Pullman is "one of the
brains" behind commencement.

Both undergraduate and graduate commencement ceremonies will be held at the Utica Memorial Auditorium at the Adirondack Bank Center on Saturday, May 11. The undergraduate ceremony will begin at 12:30 p.m. and the graduate ceremony will begin at 6:00 p.m. Doors will open one hour prior to each ceremony.

"Since parking is somewhat limited at the Aud, bus transportation will be available from Strebel Circle for graduates and their families," Pullman said. "Buses will be available for loading approximately 90 minutes prior to each ceremony."

The speaker for the undergraduate ceremony is Class of 1989 alumna Linda Bramblett. She is currently the director of North American transportation for International Paper. The speaker for the graduate ceremony is Class of 2010 alumnus Joseph Martino. He is currently a supervising gaming operations inspector for the New York State Gaming Commission at both the Point Place Casino in Bridgeport, N.Y., and the Yellow Brick Road Casino in Chittenango, N.Y.

Pullman said there will also be a reception honoring all graduates and their families from 2:30-4:30 p.m. on campus. There will be several other events leading up to commencement weekend, including a barbeque, an occupational therapy poster presentation, a trip to the Utica Zoo and more.

Senior Hanh Nguyen will be graduating with a bachelor's degree in health studies management and a minor in public relations. After she graduates in May, Nguyen will be traveling before she returns to her home country, Vietnam.

During that time, Nguyen wants to learn and improve her skills as well as gain a few certifications before she starts working in her field.

"Graduating marks the end of a chapter, which I think is an accomplishment in life," Nguyen said. "It allows me to pursue my dream, and I can also focus more on things that I like, rather than worrying about homework, jobs and internships, all at once."

Although Nguyen is excited, she is nervous about life after graduation. She is worried about getting along with future co-workers and how nice her future boss will be.

"For current juniors, I would recommend that they should put themselves out there to gain more experience, which is the most important aspect," Nguyen said. "Not only will it make them more confident, but it would also reassure their passion for what they are studying."

Senior Jasmine Pena will be graduating with a degree in English. After graduating, Pena hopes to enter the workforce almost immediately.

She also hopes that everyone will throw their caps in the air at the end of commencement.

"My time as a student here at UC passed by so fast," Pena said. "I just started and now here I am, about to cross that stage."

Pena said although she is excited to graduate, she is also nervous.

"Adulthood is going to get real after college," Pena said. "It's going to be a fun ride."

Senior Brittney Gawel will be graduating with a bachelor's in psychology. After graduation, Gawel is going to Alfred University to study school psychology. She plans on being a school psychologist and is thinking about going for her doctorate after her master's degree is completed.

Gawel is looking forward to being able to wear her stole and being able to decorate her cap, as she did not get that opportunity when she graduated from high school.

"I'm also looking forward to starting my master's program because I can do an internship anywhere," Gawel said. "I'll probably end up going where my brother is because he is in the Navy and I want to be close to him."

What Gawel is dreading the most is leaving her friends. Gawel is graduating early and she is sad to leave her group so soon.

"The advice I would give to current juniors is if you're planning on going to graduate school, don't put off doing your applications," Gawel said. "Do research and see if there are TA positions available so that you can boost your resume. Graduate interviews can get overwhelming with missing school but never get too stressed, it's super exciting to start this new chapter."