'Talking Across Differences' Hits Home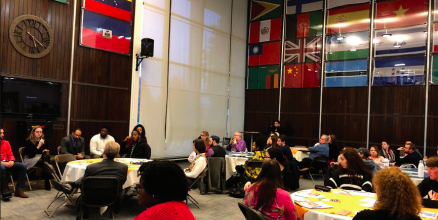 Samuel Northrup, Editor-in-Chief 
A panel comprised of students, faculty and staff assembled in the Strebel Student Center for a discussion on freedom of expression on Monday, Nov. 5.
The event, titled "Freedom of Expression: Easier Said Than Done," was the second installment in UC's "Talking Across Differences" series but aptly took place days after three fliers reading "It's OK To Be White" were put up in Strebel and Bell halls. Additionally, a Nov. 4 memo from the office of President Laura Casemento revealed that a Utica College student was heard directing a racial slur towards another student.
The panel, which was comprised of eight students, faculty and staff, would address the presence of the fliers across campus but largely stayed on message by focusing on freedom of expression and its role on the Utica College campus.
Dean for Diversity and Inclusion Alane Varga, who is also the chair of the committee in charge of planning events for the "Talking Across Differences" series, was pleased with both the event's turnout of roughly 50 students and faculty member and the discussions that were had between participants and panelists.
"I think we seeded conversions for the future and thinking about issues of freedom of expression beyond free speech," Varga said.
Varga explained that while the event was meant to offer discussion on freedom of expression, including issues related to free speech, the main goal of using the format of panelists answering audience questions was to serve as an example for how to appropriately discuss difficult topics, such as politics and race.
"We looked for, and tried to intentionally think about, folks [to participate in the panel] who were from different perspectives, different disciplines, [and who have] a variety of different ways they may see the world, see the issue and bring that to the panel," Varga said. "So we wanted folks who would respond to questions, raise issues and be willing to engage with each other if they had differences so that we could model that kind of behavior as well."
Hermina Garic, president of Student Government Association (SGA), was one of the six students who participated in the panel. After attending the first event in the "Talking Across Differences" series, a conversation on immigration with University of Pennsylvania professor of history Jonathan Zimmerman, Garic was happy to participate so that she could share her knowledge from studying constitutional law.
At the same time Garic has been a proponent for the various diversity-related conversations that have been taking place on campus since the fall 2017 semester, she also recognized that some students are seeking noticeable action rather than just discussion.
Through her position with SGA, Garic explained that she has witnessed progress and action from the UC administration going on behind the scenes. While she is encouraged by this, she also wants students to understand they themselves can also seek action if they feel they are not seeing the changes they would like to see.
"If you don't think they (UC officials) are listening, go to them, communicate to them, 'This is the action we want to see,'" Garic said. "They know the administrative side, but they don't have the student perspective because they are literally at the top and students are in the trenches."
Senior Timothy Tellekamp decided to participate in Monday's event because of the recent racial incidents that occurred on campus last week and in the spring of 2017, when racially insensitive and homophobic graffiti was discovered in Bell Hall and Burrstone House.
Tellekamp came away pleased with how the discussion that was had between panelists and participants but wants to see a larger turnout at similar events, especially from the student body.
"We definitely had a good, lively discussion," he said. "But I think the idea that we now need to consider is how we spread these ideas to the student population because obviously there was only like 20 or 30 of us here. How many students are at Utica, like several thousand? So that's a big part of the population that we need to spread this message to.
Junior Regina Hanks felt it was "important" for her to participate in the panel discussion on Monday.
"Because of recent events, I think it was important to have our voices heard about things that are happening on campus," Hanks said. "It's something that definitely needed to happen, and I'm happy to be a part of it."
At the same time, Hanks, like Varga, felt the conversation was a good start towards a larger discussion on freedom of expression at Utica College.
"I think that it's definitely a start to a bigger discussion" she said. "I think people underestimate how effective talking and that basic form of communication is."