Putnam Exam Pushes Problem-Solving Skills to the Limit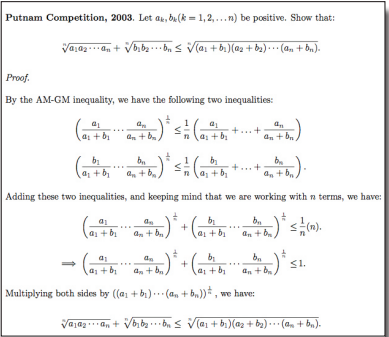 Emmalyn Ylaya, Staff Writer
Attention students, it is that time of year to think about participating in the William Lowell Mathematics Competition, also known as the Putnam Exam.
The Putnam Exam involves challenging math questions that are broken up into two sections; one in the morning and one in the afternoon. Each of these sections include six advanced math questions and has always been held on the first Saturday of December.
This year's exam will be held on Saturday, Dec. 1. The first section begins at 10 a.m. and the second section begins at 3 p.m.
In order to take the exam, students must be an enrolled undergraduate in the United States or Canada who has not taken the exam more than four times. You are disqualified after four times of participation or if you are a graduate student.
According to Professor John Peter, no one from Utica College has ever won this challenging exam.
"This exam is so difficult that the median score among all the participants is usually 0 out of 120 every year," Peter said.
The scores of this exam are emailed to the institution's supervisor, and each participant will receive an email of their scores for the individual competition problems. These results do not get announced until the beginning of the following year, around mid-February, because of the number of students who take part in this.
Students who win this exam earn cash. Scholarships are also available for students who participate in this. The scholarships depend on the students who won and the amount of times they have taken the exam.
"I take the participants of the Putnam Exam out to lunch since there are two three-hour sittings of the exam involved," Peter said. "Taking students out to lunch is just a tradition we have at Utica College since it is not provided by the school or the Putnam Exam. I usually let students decide on a restaurant that is close to campus."
Students at Utica College discussed taking the upcoming Putnam Exam this December.
"I'm a physics-mathematics dual major," said senior Daniel Alfeo. "I feel that I have the opportunity to gain practice in a high-stakes work environment, where I have a very small amount of time to show the best that I can do. At least I have experience of this exam when I take it this year."
Senior Damian Monaghan took this exam for the first time in December 2017. It took him a long time to take the exam because of the questions' level of difficulty. In other words, there is a lot of thinking involved.
"I took this exam to see what math I honestly did not know," Monaghan said. "It was fun on some level to try and answer the questions, they made you think really hard. I do not recommend this exam to anyone unless they are someone who likes trying to solve really hard questions."
For more information, contact Professor John Peter at [email protected]. You can go to https://www.maa.org/math-competitions/putnam-competition for additional information.