Cuff it All! Cold Weather Helps College Students Cozy Up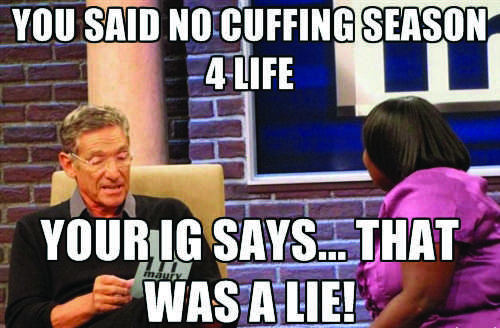 Josie Sgarlata, Staff Writer
Many Utica College students have probably heard of the phrase "cuffing season" as soon as the weather starts to change.
As the weather gets colder, this leads to a spike in relationships. According to Elite Daily, it's an interesting phenomenon in which the colder weather makes people want to couple up, cozy up and stay warm until the Spring.
Junior Mackenzie Stevens has used and knows of the phrase "cuffing season."
"My definition of cuffing season is that it is a time of year where people tend to start relationships," Stevens said. "I think cuffing season is definitely a real thing. When the weather is getting colder it has something to do with people wanting to get into relationships. I also think the holiday season has a huge impact too. As Thanksgiving, Christmas and the New Year's come around people like to have someone to do stuff with. People also don't like to be alone during that time of year hence why so many couples get together right before the holiday season."
Cuffing season has led to Stevens current relationship.
"My current boyfriend and I started dating in the beginning of October, two years ago," Stevens said. "In the beginning of a relationship, you have your honeymoon phase and having that through the holiday season is probably one of my favorite things about my relationship."
Senior John Hanlon has also heard the term "cuffing season." He doesn't believe that it has to do much with cold weather.
"The definition of this phrase is to find a significant other and "cuff" them aka make them know you're each other's significant other," Hanlon said. "I'm not sure if the weather has anything to do with it, but I do know many girls like to cuddle during these colder months."
Junior Fiona Shea believes that many people use this time of year to get a significant other, so they are not alone doing cute fall activities or during the cold weather.
"Cuffing season is a time around fall into winter when everyone starts finding someone to be with for the holidays and for the 'cuddle up it's cold out' time of year," Shea said. "Fall festivities like apple picking and haunted houses are better when someone you're crushing on is with you. When everyone is feeling thankful for the person by their side through the weeks ahead."
Shea also explained what her general idea is of the phrase "cuffing season."
"I think it's a general idea that people our age think about around the weather changes due to it being cold and maybe being alone on a snow day, or wanting to stay in and watch a movie, we tend to wish we had someone there with us for these moments," Shea said.
Junior Kaitlynn Palmer sees people get into relationships this time of year, but doesn't believe it lasts too long after the colder weather is gone.
"Single people want to be near someone or in a 'relationship' to limit loneliness during winter and colder months," Palmer said. "Most of the time cuffing season doesn't last forever. "Relationships that form during this time don't continue after it is over."
She also believes it's something people do to limit the winter time sadness.
"I think everyone wants to be near someone in some way shape or form," Palmer said. "I have experienced people being very lonely and sad during the winter and colder months. I believe "cuffing" helps to limit that depression and loneliness associated with winter."