We Are UC:Angie Ojeda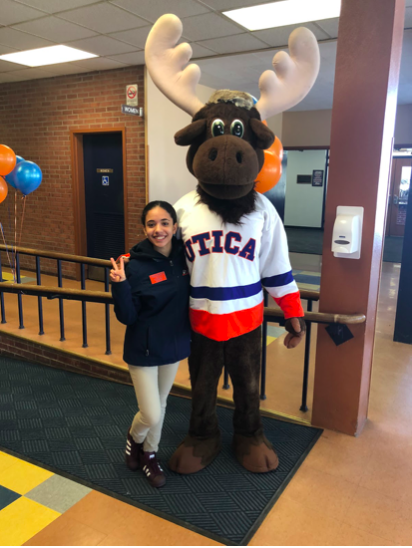 Chantelle Boateng, Online/Social Media Editor
My name is Angie Ojeda. I am a senior majoring in fraud and financial crime investigation with a concentration in prevention and detection.  I am originally from Bridgeport, Connecticut. I came to Utica College mainly because of the financial aid package. I come from a single parent home, so we needed as much money as we could get and UC offered the highest. When I came to the campus, it was very diverse and I felt welcomed.
Although I felt welcomed and liked the campus, it was my first time being away from home and it was tough. It's just my mom and I so leaving her alone was really hard. But then I made friends, I became a resident assistant and a student ambassador, so I was more out of my room and I got to think about other things and meet new people. So for a while, I got better, but it's still sad when I leave home to come back to campus, but it gets better.
A few of the organizations I joined were Alpha Phi Omega, which is a service fraternity, and Organization of Justice Studies (OJS). I was also a senator for the Student Government Association where I represented my class.
I became a resident assistant because my friends told me I had an authoritative mom vibe and that I would be a great RA. I was hesitant at first because I wanted to focus on school, but then my friend convinced. As an RA, I am a liaison between the students and the college, so if they have any concerns I bring it up to my officials. I also have a guidance role. If my residents need help with anything, whether its classes or anything else, I help them. I am a conflict mediator and host events within the building for the residents.
As an RA I want my residents to learn that they can go to the community with anyone. There are a lot of people that come here to UC and when they leave to get a job there's also going to be people of different backgrounds in the workplace, so I want them to be comfortable with approaching others and learning to be around everyone else.
I decided to apply for a student ambassador position because when I came on a UC I loved my tour guide. My tour guide here was another reason why I decided to go to Utica College. One piece of advice I would give students looking to come to UC is that it's good to go to a school that focuses on diversity. If incoming students want to attend a school where they want to immerse themselves in different cultures, they should definitely come to Utica College because it would benefit them in the long run. It would also teach them to respect other cultures.