Coach Profile: Jane Pagano, Assistant Golf Coach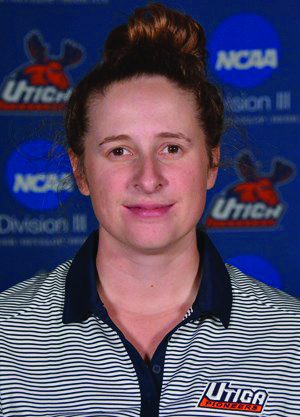 Jacqui White,Assistant Sports Editor
Jane Pagano transferred to Utica College as a junior, joining the women's ice hockey team soon after. While on the hockey team, she got to know head coach Dave Clausen, who was also the head coach for the women's golf team at the time. When Pagano was a senior, she also joined the women's golf team.
As a junior on the ice hockey team, Pagano played in 22 of the 28 games. She had five assists and one goal as well as three blocks and one game winning goal. As a senior on the hockey team, Pagano had a season high of 11 shots on goal in a game against Lebanon Valley. In a different game against Lebanon Valley, Pagano scored two goals. Twice in that season she had three blocks a game, against Middlebury and then against Morrisville State.
"I've played hockey my whole life, but I picked up playing golf in high school," Pagano explained.
As a criminal justice undergrad at Utica, Pagano knew that Utica College had a good master's program in cyber security, which was the main reason why she decided to stay at Utica College after graduating.
Pagano also decided that even though she had graduated, she wanted to keep in contact with Coach Clausen, whom she had a good relationship with.
"Working for Coach Clausen and doing my master's here was a sweet deal. Working for the college covers my school and housing costs," Pagano said.
Pagano started working as the assistant coach for the men's and women's golf teams this year. She explained that she does the background work, such as being involved in all the recruiting and planning both teams practicing and traveling schedule.
Brian Marcantonio, the head coach for both the men's soccer and men's golf teams, explained that Pagano works with the golf teams year round, while he and Clausen each do one season. Since the men's golf is a fall sport, Marcantonio mainly works with the golf team during the spring.
"She's another resource for the players to go to," Marcantonio said.
Marcantonio also explained that since sometimes the men's and women's golf teams play in different places, Pagano will go with the team that doesn't have as a big of a match.
"For example, the men's team just had a conference and the women's team was at a different location. Clausen went with the men's team since it was a conference match. Jane went with the women's team, since they still need to have a coach, even though it wasn't a conference match," he explained.
Marcantonio explained that since Pagano is involved in recruiting new players to fill in the spots, she is also in charge of contacting prospective student athletes to get them interested in the golf program.
Clausen said that having two head coaches of other sports take over for another sport isn't uncommon in division three schools.
"Budgets are budgets," Clausen explained that there wasn't enough money in the budget for two more full time coaches for the golf teams.
Clausen credited Dave Fontaine, athletic director for Utica College, for being savvy enough to see that Clausen and Marcantonio could be the head coaches for the golf teams instead of hiring two new coaches.
"It was nice not to have to pull someone new into the program when we were looking for an assistant coach," Clausen said.
He also explained that since ice hockey and soccer are both during the golf seasons, it could mean that Marcantonio is busy with soccer and that Clausen himself is traveling for hockey.
"If we're both busy, we try to plan that the golf teams are at the same tournament or match so that Jane can be with both teams," Clausen said. "Jane is a major contributor with high energy and is highly knowledgeable."