David Chanatry: Professor by Day, Political Talk Show Moderator by Night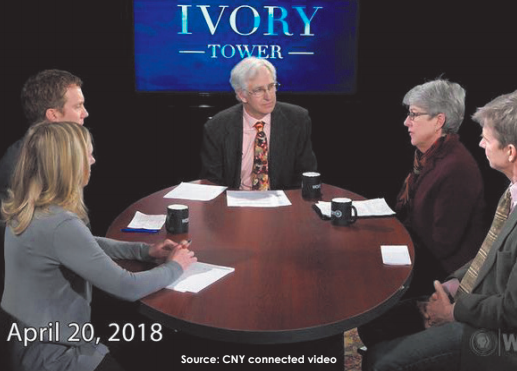 Chantelle Boateng, Copy Editor
Professor David Chanatry has been practicing what he preaches since taking over as the moderator for WCNY-TV's "Ivory Tower" talk show.
Chanatry, chair of the Public Relations and Journalism Department at UC, began his tenure as moderator after long-time host David Rubin retired in December 2016. "Ivory Tower" invites academics from different colleges around Central New York to join a panel to discuss topics regarding current events and political news.
Chantry, a veteran journalist and director of the New York Reporting Project, first learned about the opportunity through Christine Leogrande, UC's director of media relations.
"I spoke several times with David Rubin, who hosted 'Ivory Tower' and was also a professor at Syracuse University," Leogrande said. "When he approached me about adding a panelist from UC, Dave Chanatry was first on my list for many reasons. First and foremost, his vast experience in news writing and producing. I also did not know at the time that David Rubin was retiring, and that they were actually looking at Dave Chanatry to be the host."
Although he was initially hesitant to get in the "opinion business," Chanatry did not cast the possibility of being part of the show aside. He was later contacted by Rubin, the former dean of the Newhouse School at Syracuse University and moderator of "Ivory Tower" for 15 years.
"He asked me if I had thought about being a moderator, and I said 'yes,'" Chanatry said.
Chanatry later discovered he was selected as the moderator from the list of panelists interested in the position.
Like any job, there are responsibilities that must be upheld. Chanatry not only asks the panelists questions about perspectives on a topic but also has to make sure they are on schedule.
"The hard part is timing because I don't stop a conversation if it is really good, which conflicts with the time," he said.
With a new show taped weekly, there are a lot of preparations that have to be made in order for it to be a success. There are regular panelists who appear on the show and a panelist who rotates in order for a new voice to be brought in weekly. The panelists who are set to appear on the show are each sent six topics along with articles to narrow down the topics to three that will be discussed on air.
Some of the panelists on the show include professors from Syracuse Law School, Colgate University, SUNY Cortland, LeMoyne College, Cazenovia College and Utica College. Luke Perry, professor of government and politics at UC, is among those who have made an appearance on the show.
Perry, who participates once or twice a month, applauds Chanatry for his hard work since becoming the moderator a year ago.
"I welcome any opportunity to collaborate with Professor Chanatry, who has been a mentor to me and have really enjoyed getting to know the other panelists," Perry said.
"Ivory Tower" airs at 8 p.m. every Friday on WCNY-TV and is re-broadcasted on Saturday. Each week's episode is also available to stream online at wcny.org.
"I want viewers to learn and think about things they otherwise wouldn't," Chanatry said. "I also want them to learn about something they haven't heard from any other media outlets."