Student Government Association to Hold First-Ever Banquet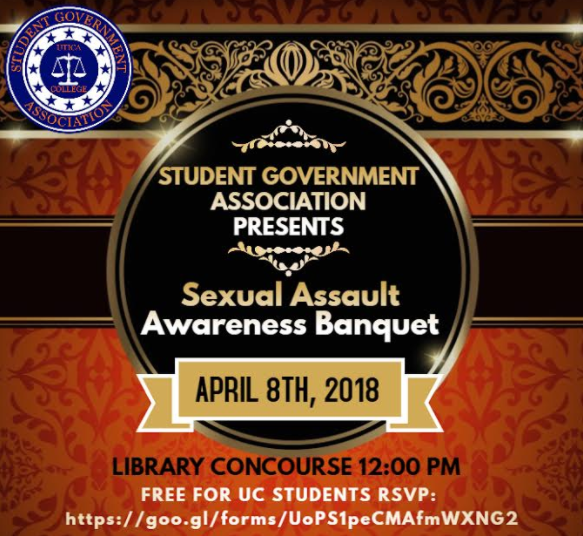 Maggie Reid, Assistant Features Editor
Sunday, April 8, will mark the Student Government Association's first-ever banquet.
The theme is sexual assault awareness, and the event will take place at 12 p.m. in the library concourse.
SGA president Ann Ciancia said that, along with her peers, she wanted to hold an event in April, and saw that it was National Sexual Assault Awareness month. In the beginning of the fall semester, they held a small event where students could pledge to be an active bystander and intervene in situations where consent was not given.
"We also recognize as an organization that sexual violence has become so prevalent in today's society, and we want to change that," Ciancia said. "We want to bring awareness to the topic of sexual assault and hopefully one day sexual violence will be eradicated. SGA wants to recognize individuals and organizations who have brought awareness to this topic."
In addition to food, awards will be given out in promotion of sexual assault awareness.
Advocate Award, which will go out to a student, organization and staff/faculty member who has demonstrated empowerment towards his or her student body.
The Sexual Assault Prevention Award will be given to a student, organization and staff/faculty member who brings knowledge towards the prevention of sexual assault on campus.
The Community Outreach Award will go to a student, organization and staff/faculty member who engages the entire community with meaningful service activities and enhances the quality of life for  victims of sexual violence. The Leading the Way to Sexual Justice Award will go to an individual who embraces and achieves social change regarding sexual assault within the college community.
Ciancia always wanted SGA to have "it's own brand event" and thought that a banquet would be a great idea to bring students, faculty and staff together.
"Bringing awareness to sexual assault and domestic violence has been a critical topic in today's society," Ciancia said. "This year has been an impactful year regarding sexual assault awareness with the #MeToo and TimesUp Campaigns. It is important that we continue to bring awareness to this topic and appreciate members of our UC community who do the same."
Dianne Stancato, from the YWCA of Mohawk Valley, will also be speaking at the banquet.
"Their slogan is 'eliminating racism, empowering women,'" Ciancia said. "We feel that the YWCA is a great organization that helps victims of sexual violence. The YWCA provides educational initiatives and outreach programs for victims of domestic violence."
Raffle tickets will be sold for gift baskets filled with gifts from local organizations. Some of these baskets include items from Village Liquors, Holland Farms, Delmonico's and more. All proceeds will be donated to the YWCA.
This year will be Ciancia's last as president, as she is graduating this semester, however, she hopes that this event will continue in the future with a different theme or as another event related to sexual assault awareness.
SGA vice president Veena Sureshkumar explained that students should attend in order to gain a greater understanding of the impact sexual assault awareness has on the UC community.
"Students who attend can expect to see their peers, faculty and staff receive awards for showcasing outstanding effort in raising awareness for this cause throughout the year," Sureshkumar said. "Food will be served and keynote speakers will elaborate on the significant influence the college campus can have for a cause. SGA has high hopes that this banquet will be the foundation for many successful ones in the future with various themes that pique student interest."
Hermina Garic, secretary of SGA, also has high expectations for the event.
"Ann Ciancia, Veena and Jordyn [Keeck-Beach, chief justice] did a great job pulling everything together, and I am so grateful we have such amazing women in Student Government Association speaking to the issue of sexual assault," Garic said. "I am excited to see them shine!"