Ammirato Breaks Single-Season Scoring Record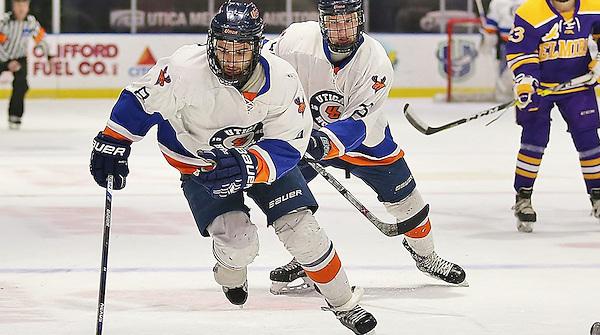 Christian Rodriguez, Assistant Sports Editor
Former Utica College men's hockey All-American Tim Coffman set the school record for goals in a season in 2009 with 19.
That record has been officially broken, this time by senior forward Roman Ammirato when he scored his 20th goal of the season on Feb. 9.
Ammirato says breaking the record was "extremely special" to him and it was a goal that he had set for himself prior to the start of the season.
"I am happy I was able to accomplish it," Ammirato said. "Now that it is over and done with, I can shift my focus to helping the team and keep advancing our season in the playoffs."
Throughout the course of a long hockey season, Ammirato says keeping healthy is a big help to his performance on the ice this season. He also credits his linemates to his success this year.
"They have certainly played a huge role in the way my season has been going," Ammirato said.
To keep this level of play, the senior says he "works hard in every practice" and treats each one like it is his last.
Growing up, Ammirato said he loved hockey and it was his dream to one day become a college hockey player. Prior to UC, he played at Union College in Schenectady for his freshman and sophomore seasons. He tallied three goals and six assists for a total of nine points as a Division I athlete.
Ammirato is grateful to be playing in a Pioneer uniform as he said his "last two years here have been very special."
"I would say that I always wanted to play college hockey, but did I ever think I would have made it this far when I was growing up?" he said. "I would have to say probably not. I am so happy I did because without hockey I do not know where I would be today."
Head coach Gary Heenan says he truly enjoys coaching a player of Ammirato's caliber. His hard work and drive to succeed in the rink does not go unnoticed.
"Roman is the first player at the rink and last to leave," Heenan said. "His dedication and commitment is second to none."
Heenan believes his senior forward not only leads the team in statistical categories but also leads by example for the rest of the Pioneers squad.
"He sets the example on how to prepare for each practice and game," Heenan said.
Ammirato currently has 40 points on the year with 20 goals and 20 assists. His average of 1.60 points per game puts him at ninth in the nation. He will look to add on to that total Saturday when the Pioneers host a semifinal matchup in the United Collegiate Hockey Conference Tournament.