New Provost to Take Office in June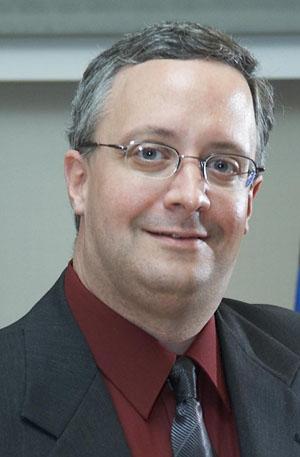 Samuel Northrup, Editor-in-Chief
Monday, Aug. 27, will be a day of firsts at Utica College: the first day of classes for returning students, the start of a four-year journey for the graduating class of 2022 and the first semester as provost and senior vice president for academic affairs at UC for Todd J. Pfannestiel.
Pfannestiel was officially announced as the successor to Provost John Johnsen, scheduled to retire in June after 41 years at UC, by President Laura Casamento in a memo to faculty on Dec. 19.
The interim provost and senior vice president for academic affairs at Clarion University of Pennsylvania, Pfannestiel was part of a national pool of candidates selected and interviewed by a search committee made up of Casamento, faculty, staff, board of trustees members and students. The committee was formed prior to the beginning of last semester.
"We loved his dedication to students, he was so student-centered," Casamento, speaking on the hiring process, said. "So really understanding the critical role of what faculty play in the life of a student and his dedication to students and their well-being and success really stood out to us. If you combine that with his own academic credentials and what he's been able to do in the classroom and administration, then it was a just a winning combination for us."
Pfannestiel's first official day as provost is set for June 1. This will provide a month-long overlap with Johnsen's final weeks at UC to give the retiring provost time to facilitate his successor's transition.
"Everything I've seen about Dr. Pfannestiel indicates he's going to bring in a lot of energy, a lot of drive," Johnsen said. "I think he's going to bring exactly what Utica College needs right now."
Like his predecessor, the Pfannestiel has been an academic throughout his entire career.
"Although it is the same position I hold at Clarion, I would say Utica College is just a click further down the road in terms of a lot of what we're doing here at Clarion," Pfannestiel said. "I see the future in terms of what Utica College wants to be, and I want to be a part of that."
According to information provided by UC, Pfannestiel received his doctorate in history from The College of William and Mary in Virginia in 2001 after receiving a BA in both history and economics from the University of Arkansas in Fayetteville in 1988. In between degrees, he worked as an adjunct lecturer for the history department of his undergraduate alma mater before beginning work at Clarion in 1998.
After receiving his doctorate, Pfannestiel began climbing the Department of History's ladder at Clarion, going from an instructor to an assistant professor in 2003, an associate professor in 2005 then professor in 2010.
"For me, the greatest title of all, and what I want students and faculty to know about me, is that at my core I am a teacher," he said. "Even though I will not be in front of students lecturing, I want to continue to get to know faculty and students and share my experience with them, and I hope I can teach them in different ways. Likewise, I want the faculty to know I know what it means to be a faculty member, it's a very unique, honorable profession, and that I come from that teaching mentality."
Pfannestiel served as dean for the College of Arts, Education and Sciences two years before being appointed to his current position. Following the end of the spring semester, Pfannestiel will have completed his 20th year at Clarion and his second as interim provost.
Considering his past experiences, Pfannestiel is confident in the skills he has developed while wearing the "various hats" of a faculty member and a leader among colleagues, including his ability to communicate effectively.
"There is a big difference between just hearing someone and nodding your head but actually listening to them and having that empathy and ability to understand their perspective," he said. "It all begins with the ability of an academic leader to not just go through the motions, but truly listen and understand everyone's hopes and concerns and then work together on arriving at solutions."
The new provost's communication skills were among the things that impressed President of Student Government Association Ann Ciancia, who served as the student representative on the provost search committee.
Pfannestiel's desire for student success both in and out of the classroom is what impressed Ciancia most during the search process.
"When we were interviewing him at the end, he actually thanked me because we interviewed him during finals time," she said. "So, it was well-received on my end, just a small thank you for being there to take the time out of your day was really nice."
Sharon Wise, Ciancia's fellow committee member and dean for the School of Arts and Sciences at UC, was equally impressed by the candidate for provost and his views on student and faculty success.
"What I see is he is going to bring in some fresh ideas of how to energize the faculty to meet the challenges that we face in terms of things like Excelsior," Wise said. "I am excited because he is also from the liberal arts field, he's a historian, so he is very cognisant of the need to make sure we are educating our students to be well-rounded individuals."
Pfannestiel will be making various trips to Central New York in the months leading up to his first day as provost of Utica College.
"It's more than just a job, it's a lifestyle," Casamento said. "Both he and his wife, Amy, will definitely do that. They're ready to embed themselves in this community."