Studying Abroad: A Life-Changing Decision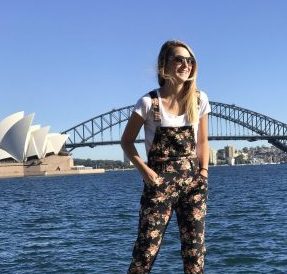 Maria M. Silva, Staff Writer
Students are offered many possibilities beyond the classroom from joining a sorority or a club to signing up for sports teams. However, there is an alternative option that some students have taken.
Studying abroad might seem to be an experience only reserved for a few privileged students. What few people know is that it is an opportunity that can be easily accessible. Studying abroad is not only attending college in a different country, but it is a cultural immersion into a new environment, meeting new people that will often become friends for life, and gaining personal independence.
Stacy Phelps, office manager at the Office of International Education (OIE) at UC, knows about the personal benefits that studying abroad offers to students. She was also one of the many students who had the opportunity of spending a semester abroad, more specifically in Salzburg, Austria. She pursued her bachelor's degree in history and political science.
"Studying abroad brings a sense of global awareness to you, one that you may have never known you had an interest in before, you're exposed to so much, that your views change of the world and experiences do as well," Phelps said.
At the OIE, Phelps has noticed that students who want to study abroad have very similar  questions and insecurities that link to the fears they have before they start college. Phelps guarantees that those students are not alone.
"Everyone in your program is wondering the same thing," she said. "You are all thrown into a completely new culture, and you can bond over that and that you're experiencing it at the same time together."
Phelps encourages students to take a chance and live the opportunity of spending a semester in a different country, not only because of the many personal, cultural and social benefits, but because studying abroad also offers an upgrade on resumes.
"It shows that you can be thrown into completely new situations and handle it with ease, as well as being able to interact and communicate effectively with different cultures or backgrounds," Phelps said.
When Devon Burri had the opportunity of studying her major in Brisbane, Australia, she did not think twice.
In spite of her initial fear of getting homesick from being 10,000 miles away from New York, she decided to make the best out of the experience.
"You meet so many new people who are in the same boat as you and they become your family away from home," Burri said.
She now advises students who start the application process to stay organized because there are a lot of things to keep in mind, and it is difficult to stay on top of everything during the semester.
Once the paperwork was done, Burri packed up to take the 14-hour flight to Australia. For her, the most important difference that she noticed right away was the Australian's hospitality and friendliness.
A few months after her return to the United States, Burri said that studying abroad has changed her life and highly benefited her.
"It has forced me to go out and do things that I would've never even thought about doing," she said. "It taught me many things I didn't even know about myself and was the best decision I have made for myself and to better myself as a person to see that there is more out there than just New York."
Burri said that she would encourage everyone to live the experience and plan a budget.
History major Anthony Rydell is another UC student that was granted the opportunity of studying abroad.
"I thought I'd try something new and go over to Asia to take the Asian history credits from an Asian perspective," Rydell said.
Rydell, studying in Hong Kong, was insecure about managing his money in a far away place.
"I found myself with a certain amount of money for four month,s and I had to make it last," he said. "You weren't allowed to work either, since your visa is only for students."
Rydell, like Burri, found that it was actually a pretty easy process. He said he started his paperwork by late March and April and received his letter of acceptance as well as his Hong Kong visa in mid-summer long before the beginning of classes. The hardest thing for him was getting his paper work done on time.
He was worried about making any mistakes on his application documents, but he stated the Office of International Education assisted him during the entire process.
When he finally arrived at Hong Kong, two of the main differences that he noticed were nature and climate.
"The first thing that I notice when I go to a new place is what's around me, and I didn't recognize any of the kinds of trees or the sound of the birds," he said. "There in Hong Kong it's very hot and humid, and when I first got there it was 33 degrees Celsius."
His classes went well, but it was getting to know the people there that was especially enjoyable for him.
"The international students are very close to one another," he said. "Sometimes, getting friendly with the local students is very hard, but some of them really like the international people and some of them don't. It's kind of a mix."
For him, the experience was life changing.
"I got to learn about how the rest of the world thinks about things," he said. "We are so used to stuff from the (American) point of view. I got to hear about the same events but from a different perspective."
When asked to give advice for potential students willing to study abroad, Rydell encouraged students to live the experience.
"Do it because there's no other time in your life when traveling is going to be this easy and affordable for you," he said. "It costs about the same as spending a semester here at UC, so do it now while you can."