Downing Reflects on Last Semester at UC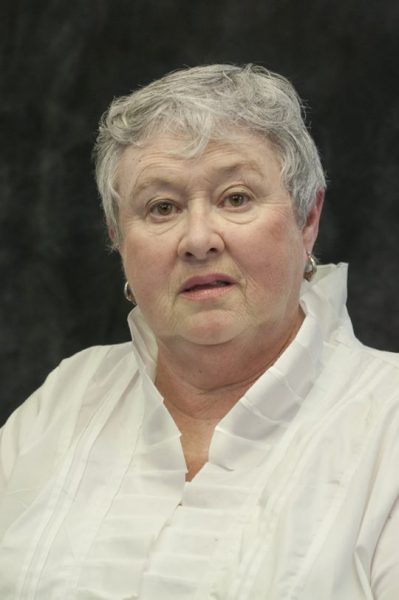 Joya Pavia, Features Editor
Utica College will be losing one of its longest tenured faculty at the end of the semester.
After a 30-year teaching career at Utica College, professor Carol Downing will retire as assistant professor of communications and chair of the Department of Communication Arts following the spring semester.
"Everything I do, it's like, well, this is the last time I'll give this lecture, or this is the last time I'll make this assignment, but I'm excited," Downing said.
Downing's main focus as an educator has centered around oral performance. Her favorite course to teach is an upper level communication course called Rhetorical Theory and Criticism.
"The course makes people think a lot, and I like that," Downing said.
When asked about what life after UC has in store, Downing had the following three things on her mind: dogs, gardening and learning to play the cello.
Years ago, Downing began planting lilac bushes as a way to remember her pets, which always reminded her of her mother. She has since run out of space for lilacs and plans to continue planting flowers during her retirement.
"I used to plant a lilac bush every time one of my pets died," Downing said. "I then added to that and planted lilac bushes for friends whose dogs or cats have died."
While Downing enjoys gardening, her passion is rescuing senior dogs. A few years ago she adopted a 15-year-old dog, and as of right now, Downing has three senior dogs and one puppy.
"If I have the mental strength for it, one of the things I want to do when I retire is start a hospice for dogs," Downing said. "There is a need for it because the other reason people dump old dogs is because they're dying, and nobody adopts them."
Downing's son, Connor, is an adjunct professor of English at UC and also teaches at Herkimer High School.
"It's nice to work at the same school and be part of the same community," he said. "We've always shared a bond through UC."
Although Downing always placed a positive value on education, she never pushed her son towards teaching.
"I always enjoyed school," Connor said. "When it came time to pick a career, the logical choice was teaching because I value everything that it stands for."
Connor Downing has learned a lot from his mother, but the most important thing she taught him was that "teachable moments" do not always have to be related to the content you're teaching.
"Sometimes students just need to know that someone cares," he said.
Downing recalled her proudest moment at UC.
"The fact that my son graduated from here," she said. "The proudest day of my life is the day he graduated."
Dean for the School of Arts & Sciences Sharon Wise has enjoyed working with Downing for the past two and a half years since she became dean.  

"She is passionate, caring and always thinking about what is best for her students," Wise said. "She has high expectations of her students but is always willing to help them."

Wise explained that Downing has always been on top of issues and finding solutions.

"Carol has been a champion of her department and has worked tirelessly to make sure that the needs of her department are met," Wise said.

Downing's biggest impact, Wise said, has been her supporting Doug Croft, who is chief advisor of the campus radio station WPNR, and working on the new Communication and Media major.
"She worked tirelessly on the new major in communication and media, which has created interdisciplinary majors that span communication arts and other areas such as public relations, journalism and theatre," Wise said. "It is an exciting new set of majors."
Wise explained what UC will be losing following Downing's retirement.
"We are going to lose a faculty member who cares deeply for her students as well as someone who has good institutional memory about the history of her program and the institution in general," Wise said.
Downing received her bachelors and masters degrees in Communication Arts at the University of Dayton. She then went on to earn her Ph.D. from Ohio University concentrating on Political Rhetoric and Public Address.
She has been chair of the Department of Communication Arts at UC since 2005. In 1990, she received the UC Student Life Award for "Outstanding Contribution to Student Life by Faculty or Staff Member." She was also given the Virgil Crisafulli Distinguished Teaching Award by UC in 1992 and was awarded Mentor of the Year by the UC Womyn's Resource Center in 2002.
"Big institutions have a way of moving forward, but the students will be losing someone who cares about them as individual people; someone who cares about their hearts and souls," Connor Downing said.