Op-ed: Trying not to fa-la-fail finals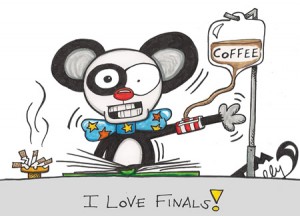 Kaitlyn Phillips, Staff Writer
As the semester comes to an end and finals are in sight, our hearts are set on going home for the holidays. Unfortunately, our hearts soon break with the thought of the torturous week ahead that is withering away our sanity.
Linnea Franits, associate professor of occupational therapy, notices a difference in her students when finals week begins to approach.
"There is definitely increased anxiety during finals, and students might get less sleep during that time." Frantis said. "They have also learned that 'cramming' for a test isn't the most effective way to learn the material and that keeping up with the readings throughout the semester makes more sense."
Don't stress though! Always remember that everything will get done, taking it day-by-day.
Working out is a very easy way to relieve stress. Emotions that build up throughout the day can just as easily be sweat out! It's a way to detox all the stress, and you can also work on that spring break beach body at the same time. Also, when you feel your best and have a healthy body, a healthy mind comes along with it!
When under a copious amount of stress, it is very easy to forget about the little things that keep us going. Even if it's just stopping by the store to get some cookies, it is important to treat yourself to items that keep a smile on your face.
Junior Emilee Stevens handles the stress of finals through chocolate.
"I unwind by treating myself to a candy bar," Stevens said. "The best thing to do is not stress so much, everything will work itself out, and you always have time to take a break and breathe."
When all the stress is building up, the best way to get rid of it is by sleeping it off. Studying for many different exams and writing papers can lead to staying up late, but taking small naps throughout the day can help you stay refreshed.
As there are many things to accomplish to keep up in class, making to-do lists can help you stay on top of things. It is very easy to forget about the little things that can easily turn into a huge avalanche of overwhelming, unfinished work. It can be as simple as making Post-It notes with reminders.
Kiernan Briggs, a junior, conquers finals week with a little relaxation.
"To relieve stress I tend to find a quiet place to just relax and drink lots of water," Briggs said. "I also make sure there's still time to do the things that I enjoy so that my whole day isn't consumed with studying and stressing over finals. I️ also make sure that I eat throughout the day, so that way my brain can function fully."  
Briggs found the best places to study usually are not the ones where students love to go.
"At this time of year, people think the only place to study is the library," Briggs said. " I personally think that sometimes the amount of people that are there stressing about their work can force you to stress even more. So I try to find a quiet place in the residence halls or in the classroom buildings to get work done."