Utica College, public relations legend Ray Simon dies at age 102
Samuel Northrup, Editor-in-Chief
Utica College has lost a legend and the founder of its public relations and journalism programs.
Raymond Simon — seen as a true pioneer for developing one of the country's first undergraduate public relations programs at UC in 1951 — died at the Presbyterian Home in New Hartford at the age of 102 on Tuesday, Nov. 7.
Throughout his 36 years as an educator, Simon became a part of the bedrock of UC and its academic programs. He earned international recognition as the "father of public relations education" for his work forming and developing UC's program as well as writing numerous college textbooks related to the field.
In an email to faculty and staff sharing the news of Simon's passing, President Laura Casamento made note of Simon's achievements, which included being named one of the top 100 most influential public relations practitioners of the 20th century by PRWeek and being chosen by the Public Relations Society of America as the most outstanding PR educator in the country in 1975.
"He was a fabulous educator," Provost and Senior Vice President for Academic Affairs John Johnsen said. "The measure of his quality as an educator is also indicated by the depth of feeling that his students continue to have for him. People who had him 50, 40, 30 years ago in class still have very high regard for him and what they learned from him."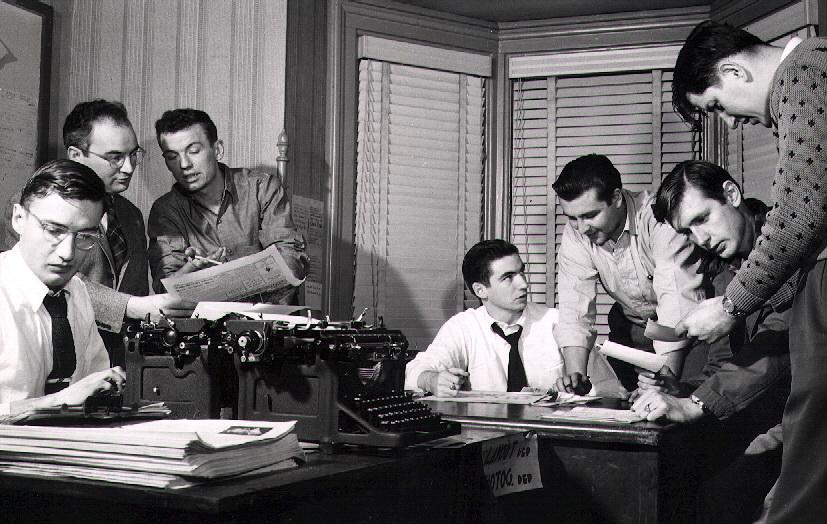 Johnsen, now entering his 41st and final year at UC, remembers Simon as an articulate, genuine voice on campus and as someone that brought an uncommon element of integrity to public relations.
"He was a giant in a field that is frequently characterized for a lack of integrity," he said. "There is an ethics to every profession, and Ray was very strident about that; that there's ethical ways of being a public relations professional and there are way too many examples of people who violate those ethics."
Simon was born on Aug. 12, 1915, in Union City, N.J., and attended school there until enrolling in the University of North Carolina. He received a master's degree in journalism from Northwestern University before enlisting in the U.S. Army and serving in the Army Signal Corps in Berlin from 1942-1946, according to his obituary.
He was able to utilize his education as a journalist to work as a reporter for the U.S. Army's Berlin Sentinel while also working in public affairs for the U.S. State Department in Berlin, according to Professor Patricia Swann's "Raymond Simon: Public Relations Educational Pioneer," an academic article on Simon's impact on public relations education. In 1949, Simon began his work at Utica College, then a satellite school of Syracuse University, developing one of the first public relations programs for undergraduates.
While Simon's most notable achievement may be the creation of a public relations program at UC, Swann, a public relations and journalism professor who knew Simon well from her first year at UC in 1999, pointed to the scholar's work as an author. The textbooks he created were unique, she said, because no student-focused public relations books — let alone curricula — existed for students at the time.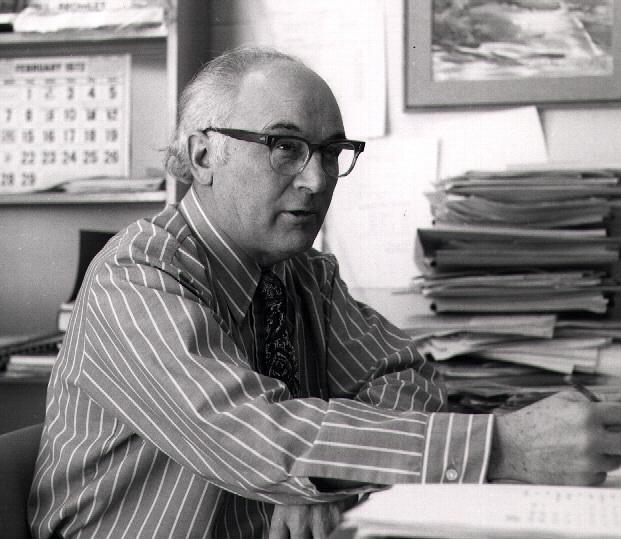 "I think those textbooks were huge because back in the 50s, after the war, public relations took off," Swann said. "We had the Depression and then the military, so there was no need for marketing or PR back then because there was nothing to buy."
In 1985, Simon decided to retire from UC, but years later, he still remained an active participant in the programs he started. The professor emeritus always made a point to visit with faculty members on his way to picking up his copy of the latest issue of The New York Times from the college's library.
Throughout his career and into his retirement, Simon was able to maintain relationships with former students even as they rose further in the ranks of their respective professions.
David Chanatry, a professor of journalism at UC and the current chair of the school's journalism and public relations department, said that the state of UC's programs would not be the same today if not for the numerous relationships Simon established across decades with his students.
"Some of the more advanced equipment and technology we have [available to students] is largely because of his name and influence that we were able to raise some of the money to do that," he explained. "I don't think without the alumni network that he developed and maintained, because it's his old student network, that we would have even tried to expand the program and build a broadcast facility."
Professor Emerita of Journalism Kim Landon had a unique relationship with Simon — she learned from him both as a student and a colleague.
Landon, who credits Simon with giving her the life she has had as an educator, felt too young and unprepared to be a faculty member when her former professor offered her a position at UC.
"That's who he was as a person," Landon said. "He saw something in people that you didn't see in yourself. It set the course of my life in motion."
After being hired in 1979, Landon had difficulties with grading student work, particularly submissions that were between "an obvious A" and "an obvious D." After working with Simon on this, her grading abilities improved as she was also able to learn from her former professor's true expectations both in and out of the classroom.
"He really expected excellence and that's where he started from," she said. "He didn't start his grading from average, he started his grading from excellent, and I think that tells you a lot about who he was."
In addition to his expectations of excellence, Landon was also struck by how Simon taught students and could spark classroom conversation and interest.
"He could walk into a classroom with an idea of what he wanted to talk about, and by starting to ask a couple of questions, he would say, 'Joe, what do you think of this situation?' and then he would turn to the other side of the room and go, 'OK, Mary, what do you think of what Joe said?'" she explained. "He would put you right on the spot; he wouldn't wait for a student to raise their hand. You had to go to his class knowing you would be called on."
Simon did not teach or lecture classes, Landon said, he conducted them.
"He just taught a class like he was conducting an orchestra," she said. "And before you knew it, the students were responding and were in a bigger conversation. Truly, he was not waiting around for you to raise your hand at all."
Kelly Adams, another former student of Simon's and the current assistant vice president for advancement/marketing communications, said he credits the PR legend with impacting his career.
"He was truly one of the founding faculty," Adams said. "If you were to really use Ray Simon as the bar to get the most out of life and how to do the most and give as much of yourself as you can during your time living — what a high bar. I'd love to think I could come anywhere close to that."
Even after retiring, Simon continued to help students through the Raymond Simon Institute for Public Relations at Utica College, which was underwritten by alumni upon his retirement, by providing more than $250,000 in student awards and scholarships over the years, according to his obituary.
Simon's presence on the UC campus reached a new level in 2005 when the college created the Raymond Simon Convergence Media Center to serve as the state-of-the-art home of Utica's public relations and journalism programs.
"Ray Simon is part of the campus tour," Adams said. "It's not because his name is on the Convergence Media Center, but it's his influence that is on the teaching and learning experience here. He and a select number of faculty like him, they are the reason for why the experience of being a student here is what it is. That personal caring and personal interest that our faculty have in students here, that constant balance of professors challenging but also supporting students, that traces back to Ray. That was Ray Simon."
Simon is survived by his wife of 56 years, Lyn, and two daughters, Melissa Berczuk and Brooke Candelaria.
Calling hours will be held on Saturday, Nov. 11, from 4-7 p.m. at Friedel, Williams & Edmunds Funeral and Cremation Services in New Hartford.