We are UC: Alexia Colacicco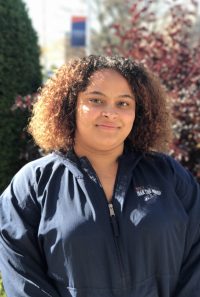 Whitney Morris, Online/Enterprise Reporter
This week marks the second Tangerine "We Are UC" profile highlighting the people who thread the fabric of the Utica College community. These profiles are written from the perspective of the subjects themselves.
My name is Alexia Colacicco, and I am a senior. I chose Utica College because this was honestly the only school I came to visit and the orientation was very, very welcoming. It was also fun, so I thought it would be a good fit for me. I wouldn't say that I'm unhappy here, but I wouldn't say that I'm ecstatic either. Every school has its issues and things they need to work on, but I am content here.
My favorite thing about UC are the people I've met and the connections that I wouldn't have made if I didn't come here. I like being social and hanging around people, and the friends I've made here make everything that much more enjoyable.
I am a second year resident assistant, second year public relations board for the Black Student Union and this is my first year being vice president for Fuerza Latina. Time management is hard because I always have school work on top of planning/attending events, making bulletins and doing everything I have to do for the organizations I'm involved in. I always get my schoolwork done first because that's the main reason I'm here. I also use an agenda to stay on top of things. I'm starting to understand that time management is something you continuously learn because tasks are always being added.
I enjoy being a resident assistant because you get to meet and help people, and I enjoy helping people. The Black Student Union and Fuerza Latina are two organizations that I feel are trying to make a change on campus, and what better way to come together and educate one another on important issues than through organizations that encourage that.
Aside from getting my work done, being able to give to and help people in any way makes me feel accomplished. If I can make someone feel better, even with something as small as a compliment, knowing that I made their day is a feeling of accomplishment for me. When I was a kid, I wanted to be a vet. As I got older, that changed, but I always knew that I wanted to spend my life helping in any way I could.
What makes UC unique in my eyes is the fact that I feel that they do have the best interest of their students at heart. Although there are things that could be improved, I do feel that they put an effort towards change. On a more optimistic note, I feel like the professors are very personable. If you ever fall off, most professors will not only notice that but offer ways that you can get back on track, and that makes me feel that much more comfortable here.
My philosophy in life is always be your best at what you put your heart, mind and soul into. Constructive criticism is important but there's no need to pay attention to negativity. I just feel like if everyone could be the best person they could be, the world would be better off.