Behind the scenes of UC athletics: Jeff Stanimer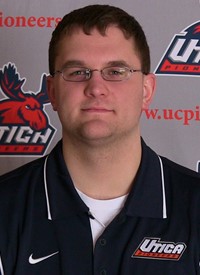 Christian Rodriguez, Assistant Sports Editor
Equipment manager Jeffrey Stanimer is one of many workers at Utica College operating behind the scenes.
The fans see the coaches, administrators, trainers and team managers, but Stanimer is out of the spotlight. His job is to make sure the players have the correct gear and the proper space to practice and play games.
Stanimer says his job is "pretty straight forward."
"I set up the fields and courts, do the team's laundry and make sure everything each team has is fixed and ready for use," Stanimer said. "It's pretty much the true definition of an equipment manager."
Stanimer was a student at Utica where he earned his undergraduate degree in economic crime investigation in the spring of 2012.
He vividly remembers when Utica Athletic Director David Fontaine hired him.
"It was January 21, 2013 when I got the job here at Utica College," Stanimer said. "It's crazy that it has already been four years. Time really flies with the way these sports are in the NCAA."
While Stanimer mostly operates behind the scenes, UC's athletes still appreciate his hardwork.
Senior women's basketball player Amanda Henderson is grateful for Stanimer's services to the athletic department.
"Even though he may play a small role to our team because we don't require the equipment care say football does, we appreciate how hardworking Jeff is," Henderson said. "Especially when we have late practices and games, he makes sure our uniforms and gear are washed. That is something we don't have to worry about."
Henderson's teammate Maggie Tabone says Stanimer is a very important asset to the team.
"I'm always super-impressed when we get back from games at 2 a.m., and our gear is washed by our 9 a.m. practice the next morning, it's really impressive," Tabone said. "I always see Jeff around the athletic center and he's always working, I don't think he ever sits still."
Tabone also thinks that it is great to have Stanimer as an equipment manager because she knows he always "has their backs."
"He's the only equipment manager on staff and we have a lot of teams," Tabone said. "For basketball we don't have a lot of equipment, but then I think about football and don't know how he does it. It's great to have someone who is so committed to Utica College athletics."
Senior baseball player Joseph Cozza says he admires and appreciates what Staimer does for every team on campus.
"Coming from an athlete, I've always respected the people behind the scenes that help the team out in any way they can," Cozza said. "Our uniforms represent us as a unit and a school, so having someone to take care of something that important means a lot to me."
Senior football player Darrell Jones II says he can't imagine how hectic Stanimer's job is.
Jones believes that nobody truly gives Stanimer the credit he deserves.
"Honestly, the things Jeff does for us really helps tremendously," Jones said. "Mostly those things are unseen by the people outside of the team, but for us those tasks rarely go unnoticed."
Jones says the hard work of Stanimer makes the player's and the staff's lives so much easier.
"We can't thank him enough for all he does and has done for us," Jones said.