We are UC: Justin Cortes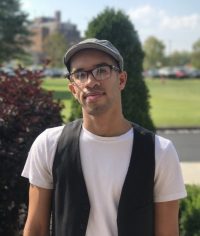 Whitney Morris, Online/Enterprise Reporter
This week marks the first Tangerine "We Are UC" profile highlighting the people who thread the fabric of the Utica College community. These profiles are written from the perspective of the subjects themselves.
My name is Justin Cortes, and I am a junior. I chose Utica College because by the second time I met my professors, and other campus officials, they knew my name and who I was. I felt like family here, I felt like joining the herd. Regardless of the fact that you experience all 4 seasons within a week, I am happy here.
My favorite thing about UC is actually my favorite thing about humans: we have this innate ability to take something as simple as the middle of Central New York and turn it into something special. That's what I've done. I turned UC into something special for me. I turned it into a home.
I'm involved in the Asian Student Union, Gay/Straight Alliance, Student Government Association, Africa In Motion, Fashion Club, Resident Hall Association and Utica College Programming Board. I don't worry about time management. I schedule everything, and I don't worry about what comes in between. My networking style allows me to meet new people or realize the friends that I have in certain organizations. Those friends then introduce me to more and more organizations that I eventually join.
Being an unsung hero makes me feel accomplished. I don't look for gratification or a "good job!" from people.  Just seeing the happiness in others let's me know that I've accomplished something.
What makes UC unique in my eyes is that it has this weird ability to surprise me in every aspect of the world. There's certain types of people that I think aren't here, and they exist here. There's certain types of people who have certain beliefs that I didn't believe existed here, and they do.  So, the surprises are what makes it unique.
My philosophy in life is that you make decisions, and you don't look back because if you look back you mess around and trip on the stuff in the past. When I realized this about a year ago, life became easy.