Devastation in Puerto Rico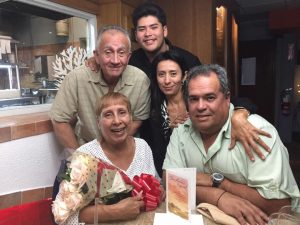 Morgan Golliver, Assistant News Editor
Over the past several weeks, many islands in the Caribbean, including Puerto Rico, have been left without power and without safe drinking water and other resources due to the aftermath of Hurricane Maria.
With Puerto Rico in need of aid, many U.S. leaders and organized groups have donated and delivered resources and supplies.
Gov. Andrew Cuomo traveled with emergency-response officials to Puerto Rico on Sept. 22 to deliver supplies and help families in need, according to a recent CBS New York article.
Cuomo's group donated over 34,000 bottles of water, prepared meals, canned goods and even large generators to help restore power in hospitals and communication centers to help families reach out to loved ones away from home.
When Cuomo returned, he called the trip "really breathtaking" as the damage was much worse than he had expected. Cuomo hopes to get more representatives around the nation to help in relief efforts.
UC student Justin Cortes was personally affected by the devastation of Puerto Rico.
" My grandparents, aunt, uncle and five cousins all live on the island," Cortes said. "My grandparents were completely unharmed from the hurricane damage while my aunt, uncle and cousins' home was completely destroyed."
Cortes mentioned that he didn't know of Cuomo's relief efforts, but he said that at first his mother had problems reaching out to relatives in Puerto Rico.
"My mother was trying to go see my grandparents in their gated community in Puerto Rico, but she couldn't because the airports are closed," Cortes said. "But, we were finally able to get in contact with them. They are doing fine with no injuries."
UC student Stephanie Rodgers is also affected, as she lives in Puerto Rico. She said communication and electricity is very limited at the moment.
As many students are affected by the devastation in Puerto Rico, Interim Dean of Students and Campus Life Halina Lotyczewski spoke on the behalf of UC about how the college is helping in relief efforts.
"I am deeply saddened to learn of the widespread devastation that the hurricane has caused, especially knowing that we have students and their families who live on the island," Lotyczewski said. "Student groups on campus, such as Fuerza Latina and even individual students with ties to Puerto Rico, have already expressed an interest in fundraising and contributing to relief efforts. Utica College staff are working to connect these groups to encourage a collaborative effort."
With the aftermath of other hurricanes such as Harvey and Irma, Lotyczewski also mentioned that Utica College recently sent a group of construction management students to Santa Fe, Texas to help out families in need as well as help out a firefighter in Florida by planning and organizing various fundraisers.
Assistant Director of New Student Programs Lauryn Davis provided her thoughts on helping students affected by this natural disaster.
"While some of us may feel helpless being so far away, I try to keep in mind that many of our students have family and friends in Puerto Rico and that they might be feeling scared or sad and need people to talk to," Davis said. "I hope that our students know that all of the faculty and staff here at UC are here to support our students during this hard time. This is a time for us to come together as a community and come up with ideas to assist those in need."
Davis also heard of New York State's relief efforts and, like Cuomo, hopes there can be nationwide help.
"I am so happy to hear that New York State has stepped up without hesitation to aid in the relief efforts in Puerto Rico," she said. " I can only hope that all states follow suit and that our presidential administration makes helping our fellow citizens in Puerto Rico a top priority as soon as possible. I look forward to seeing the beautiful island of Puerto Rico become whole again.
In situations of future disasters, Lotyczewski said that Utica College's Emergency Relief Fund will help students and their families in need.
"After Hurricane Katrina, the college established an Emergency Relief Fund to help with our students' critical financial needs as a result of personal circumstances or natural disasters," Lotyczewski said. "Students affected by the hurricanes are encouraged to submit requests for financial support through this fund."
For more information, students may contact George Nehme, Vice President for Advancement at [email protected] or 315-792-3219, or contact other UC faculty and staff for help.