Player profile: Allison Wagner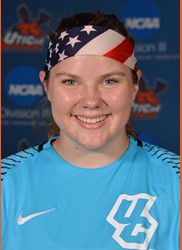 Hali VanderMeulen, Staff Writer
The Utica College women's soccer team is currently 3-5-1 overall for the 2017 season. A large contributor to the Pioneer's success is sophomore goalkeeper Allison Wagner who has played in every minute this season.
Wagner has been focused and determined this season. She is UC's only goalkeeper which motivates her to stay mentally and physically strong.
Wagner ended last season with 132 saves and is on pace to hit that mark again this year. Through 9 games, she has 78 saves, four shutouts, and has only allowed 11 goals. Wagner also had a high of 18 saves in one game against Desales University which helped Utica to a 1-0 win.
Wagner became a goalie because as a kid she loved trying to fly.
"When I'm diving for a ball, outstretched and in the air, it feels like I'm flying and you can't find that feeling anywhere else," Wagner said.
Assistant coach Stacey Weinberg describes Wagner as a determined athlete on and off the field.
"It is great being able to coach Allie," Weinberg said. "She is extremely coachable and is willing to learn and take criticism when needed to better herself as a player."
Soccer is not the only thing Wagner excels at. She is a firm believer that it's important to be involved with school activities as well as being a well-rounded student. Wagner spends her time off the field as a resident assistant in bell hall, the co-president of students for sober driving and a rep for the SAAC committee.
"Allie brings a lot of heart to our program," Weinberg said. "Each and every practice she is there to work hard and to get better. She brings a lot of positive energy to the field and to her teammates."
Weinberg believes that Wagner's personality is perfect for sports.
"She is able to make so many people laugh and she knows how to make practice fun but serious as well," Weinberg said.
Allison credits her success to having a year of experience.
"This year, my game is drastically different," Wagner said. "A coach can't teach experience and because I gained that last year, games are not overwhelming anymore."
Wagner thinks that finding time to study and spending extra time in the trainer's room is the most difficult part of being a student athlete. She uses her family back home and teammates now as her inspiration.
"My family's never ending support and confidence stays with me on and off the field," Wagner said. "My teammates are constantly pushing me to improve and I couldn't be where I am without any of them."
Wagner feels pressure this season being the only goalie Utica has, but she believes in her team to help make her job easier.
"There is a lot of pressure as a goalkeeper," Wagner said. "It comes with the position, however, I know my team works hard to stop shots before they get to me,"
Utica's entire back line are freshman, but Wagner stays positive and believes in their success.
"Empire 8 games are going to test us as a team," Wagner said. "But we get better and more experienced each practice and game which makes me confident in the back line."
This season, Wagner's ultimate goal is to have a better record overall than last year and work as a team.