Be the Match: helping to find bone marrow donors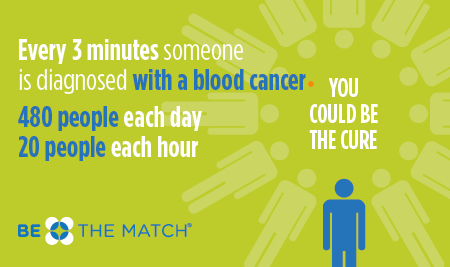 Morgan Golliver, Assistant News Editor
On Sept. 14, 84 Utica College Students registered as bone marrow donors and signed up for Be the Match, according to Betty House,,an assistant in the Levitt Center at Hamilton College.
Be the Match is the world's largest bone marrow registry with over 400,000 new donors registered to help patients diagnosed with blood cancer.
House first joined Be the Match after her brother was diagnosed with blood cancer because there wasn't a match in the her family that could help him.
"There is only a 1-in-4 chance a sibling would match but there was no match in our family," House said. "So we searched on Be the Match and we were able to find a match."
House has overseen many Be the Match events at local colleges, ever since finding a match for her brother, and loves to see many college students take the time to help a good cause.
"Colleges are a great place to recruit young, healthy college students," House said. "Students are generous and willing to check out the event and help out cancer patients."
House also explains the process it takes to become a donor.
"Some college students are nervous to sign up because they think we're going to take bone marrow from them right here," House said. "But all it takes is a quick cheek swab and filling out a questionnaire to become a donor."
Once the registration process is complete, students will be on the Be the Match mailing list where they could potentially be asked to help someone in need.
House said there is a one in 430 chance of someone being asked to donate. They look for the majority of their donors within the ages of 18 and 44, and the donors remain on the registry list until the age of 61.
When it comes to goals for the Be the Match organization, there is only one main goal of "quality over quantity" of its donors.
"We have one main goal which is to get as many committed marrow donors as possible," Be The Match representative Michael Garbin said. "We look more towards quality than quantity because we would like to see students willing to donate to cancer patients."
Garbin also said Be the Match is a worldwide organization due to the availability to donate internationally.
"There are about 14,000 Americans who need a bone marrow transplant every year, so doctors check our registry first," Garbin said. "Through our registry, there is the capability of receiving the transplant overseas and vice versa as about 25 percent of Americans donate overseas while another 25 percent can come from overseas to America. So it works out for everyone."
For students that are concerned with costs, Garbin says that they shouldn't have to worry if they can help.
"Be the Match pays for everything from the transportation to the medical procedures, so students and patients never have to worry about costs," Garbin said.
Chantelle Boateng, a junior at Utica College, lent her assistance to the event as the treasurer of the UC Residence Hall Association.
"Be the Match and RHA collaborated to get this event on campus," Boateng said. "We thought it was a good event and a good cause as it can bring students to help out and save lives."
Boateng signed up to be a donor as well as to help patients including her half-brother.
"I am willing to help out if I am a match because saving lives is important to me," Boateng said.
For more information on how to become a donor or more on the donation process, go to bethematch.org.