Player Profile: Anthony Bierria-Anderson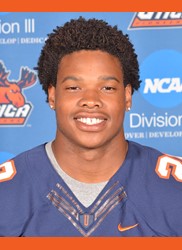 Zach Thomann, Sports Editor
The Utica College football team has not won the last game of the season in the three years senior Anthony Bierria-Anderson has put on the Pioneer uniform. This includes the loss in last year's James Lynah Bowl to Westminster College.
"I remember talking to a few guys after the game who were getting ready to get on the bus," Bierria-Anderson said. "I told them that I'm leaving this school with a win on my last game."
The desire to win has put Bierria-Anderson in a position to be a leader on the field and a captain on his team. Each loss that the Pioneers face gives Bierria-Anderson the chance to learn and grow.
"I hate losing a lot more than I like winning," Bierria-Anderson said.
Bierria-Anderson grew up in Long Island, NY and played football at Freeport high school. At 165 pounds and over 6 feet tall, Bierria-Anderson remembers himself as an awkward and skinny football player in his junior year of high school. His team only had one win all season.
"Losing that many games takes a toll on you," he said.
Bierria-Anderson moved to safety in 12th grade and fell in love with the position. He credits his high school coaches for getting him ready for the next level. They taught him to play smart on the field.
"You can't always rely on athletic ability," Bierria-Anderson said. "Especially at the college level."
Utica defensive coordinator Will Pluff agrees that understanding the game is half the challenge for recruits.
"It's hard to get guys to learn our defense and buy into the system," Pluff said.
Pluff says that Bierria-Anderson, also known as "A.B.A," has the ability to correct his mistakes before a coach can tell him what he did wrong. This has helped make Pluff's job easier at practice and on the field.
"Anthony runs the show for us on defense," Pluff said.
Pluff has been meeting with Bierria-Anderson once a week during the school year to talk about classes since he joined the team. This procedure is done by multiple coaches with every player getting one on one help. Head coach Blaise Faggiano refers to this as the "Utica advantage program."
The program is designed to keep a concise schedule of the week and map out goals in life. Faggiano believes that this has helped athletes stay organized and do their work.
"This is the foundation of success," Faggiano said. "We had our highest fall and spring grade point averages ever last year."
Pluff has seen Bierria-Anderson grow as a student and an athlete since joining the team as a freshman.
"Anthony appreciates learning," Pluff said. "This is a skill that has helped him on the field as well as later in life."
Pluff has also seen Bierria-Anderson show discipline towards a schedule. This means that he is committed to the schedule that was set out ahead of time.
"There is a difference between having a schedule and being on a schedule," Pluff said.
Bierria-Anderson has used the tools given to him to be successful as a student, but what really inspires him is his mother.
Pamela Bierria is a secretary at a BOCES in Long Island. Bierria-Anderson remembers his mother having two part-time jobs, as well as a full-time job in order to support his brothers and sisters.
"I know how hard she has worked, and I've seen what happens to people that didn't go to school," Bierria-Anderson said.
Pamela comes to almost every game to cheer on her son who will have a large role on this year's team.
"Anthony is the type of player that was voted by almost every guy on the team for captain," Faggiano said.
Faggiano praises the positive attitude that Bierria-Anderson shows, no matter the situation. Faggiano loves his leadership ability because, even when Bierria-Anderson gets loud, it is in a manner that his teammates respect.
"You can easily get down on yourself with the workload a student-athlete has," Bierria-Anderson said. "I just try to motivate others and let them know that we are in this together."
That family atmosphere is the reason that Bierria-Anderson chose to play at Utica. He is planning on graduating with a public relations major and pursue a career as a football coach.
Bierria-Anderson believes that his major has helped him with speaking skills that will be essential as a coach.
"Football has shaped me," Bierria-Anderson said. "I wouldn't be where I am today without it."
Bierria-Anderson hopes to have eight interceptions this season, but his main focus is on winning the E8 conference. That is something which hasn't been done in Utica football history.
Faggiano shares the same goal as Bierria-Anderson, but also likes to remind his athletes why they are there.
"Football is here to enhance the academic experience," Faggiano said. "Without college, there is no football."