Unique Major at UC sparks big opportunities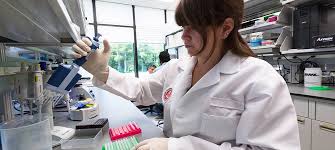 Briana Greco, Features Editor
Psychobiology is a relatively new program for many colleges nationwide which integrates biology with psychology and gives a unique experience to students inside the classroom. According to the Utica College website, there are only 12 colleges in the U.S that offer psychobiology as a major, UC being one of those institutions.
Students who earn a degree in this major have the potential to work in various fields and have several different career options after graduating. Some of those areas include health, medicine, psychology and neuroscience.
Psychobiology majors take an array of courses from chemistry to psychology and biology directed classes. Students must complete 128 credit hours to earn their degree in this field.
Many students here at UC started their college career as just a psychology or biology major. After some research many those individuals decided to switch over to psychobiology for a more diverse experience.
Senior Chiara Aceto stated, "I started as a psychology major, but after doing some research and talking to my advisor, I realized I already had most of the credits needed for psychobiology, so from there I switched over."
"Even though switching is going to keep me at school an extra semester, I realized how many more opportunities were available with this major and I knew it was worth it," Aceto said.
Aceto went on to explain how her interest for the program sparked when she began to learn more about the human brain and individual personalities.
"The human mind is a very interesting subject for many people, including myself, because of its power and complexity, and its ability to make us who we are," Aceto said. "I have always been fascinated by people's thought process and personality."
After graduating with a degree in psychobiology Aceto plans to go on to a doctorate program to receive her PhD.
Senior Amanda Taurisano also heard of the program during the spring semester of her sophomore year.
"I learned pretty early on about the psychobiology program and switched from the biology program into this one, which worked out because I already had most of my pre-requisites done," Taurisano explained.
Taurisano went on to explain how the major allowed her to gain a more well-rounded experience, while still graduating on time.
"I enjoy that it combines the concepts of two majors that I'm interested in
without having to actually be a dual major," Taurisano said. "This way I can avoid the potential of not being able to graduate on schedule."
Like Aceto, Taurisano plans on attending graduate school after graduating from UC except with the dream of becoming a physician assistant.
The psychobiology program offers a range of opportunities for students enrolled and is a unique take on traditional subjects, such as psychology and biology. The integration of the two has provided a solid foundation for many students to work towards careers in several different areas of the field.
Aceto stated, "If this major wasn't offered I would probably just be a psychology major, but entering this program I think is really going to take me to the next level and benefit my future in the long run."