Fall sports preview: Soccer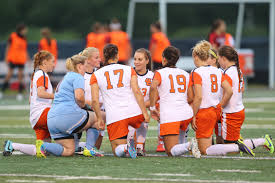 Hali Vandermeulen, Staff Writer
The Utica College soccer teams are preparing for a more productive season than year's past. Head women's soccer coach Eileen Blumenauer believes that the team is focused on winning.
The team ended last season with a 2-12-2 overall record.
"I think this season we have a program that is all in," Blumenauer said. "That's kind of our team motto. This semester, we have players that are ready to dedicate themselves and sacrifice for the program."
Blumenauer is very excited for what the new team has to bring. Even with the new and improved team, Blumenauer plans on staying prepared all season long.
"Our conference is really tough and that's something I love about the Empire 8," Blumenauer said. "You could win or lose any game so I think that all of our conference opponents are going to be big games for us."
Sophomore goalie Allison Wagner is very optimistic for this new upcoming season. She started off the season with a shutout and a season high of 15 saves.
"I'm really excited for the season," Wagner said. " I think that we have a much better starting point then we did last year, especially with the new class. They are going to bring some energy."
The Utica College men's soccer team is also very enthusiastic about what the new year will bring. The team finished with a 2-13-1 record. Head coach Brian Marcantionio is confident that his team will have a better season.
"I'm really looking forward to the season," Marcantionio said. "I think we have a young but talented team. They should be very fun to coach and have the potential to be quite successful."
Marcantionio believes that the returners and first years get along well.
Sophomore Randy Malek is focused on the team's success. "I'm not really focused on the other teams just on our success," Malek said.