15th annual Sitrin Wheelchair Basketball Game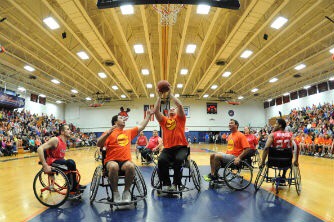 Zach Thomann, Assistant Sports Editor 
(Photo credit: http://www.sitrin.com)
Utica College will host the 15th annual Sitrin Wheelchair Basketball Game Thursday, April 13th at 6:30 p.m. 
The event has continued to grow each year which has helped attract well known people in the area. The headline celebrities are Syracuse University basketball graduates Andrew White and John Gillon, as well as Olympic bronze medalist for the luge, Erin Hamlin.
Other non-athlete celebrities include; attorney Anthony Brindisi, director of the Carbone Auto Group Alex Carbone, Senator Joseph Griffo, Mayor Robert Palmieri, and Utica men's hockey coach Gary Heenan.
These public figures have decided to help raise awareness for people with any type of disability. Many people who are impaired have been encouraged to get off the sidelines and play.
The event has sold out the last two years seating 1,200 people which has helped Sitrin purchase equipment for people with disabilities.
Spokesperson for the event, Marc DePerno, has encourage people who are new to the event to come see what it's all about.
"The sport is fast paced and competitive," DePerno said. "It's on the same court as any other basketball game with the same lines. The only difference is that they are sitting down."
The Clark Athletic Center will be at full capacity Thursday night in efforts to raise awareness for a larger cause.