Get to know Utica: Boutique Edition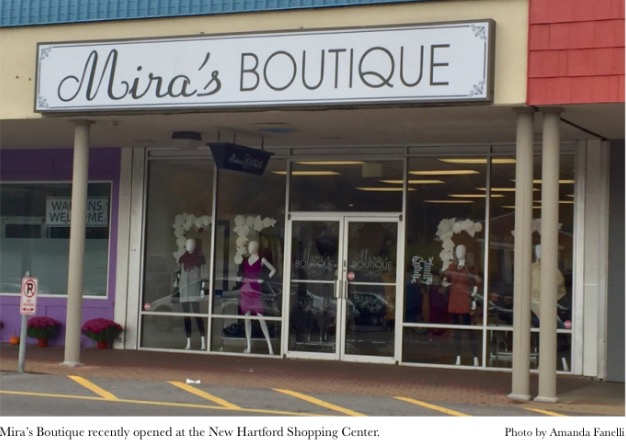 Amanda Fanelli
Staff Writer
One of Greater Utica's best-kept secrets are the eclectic mix of locally owned boutiques. These boutiques offer everything from headbands and hair accessories, clothing, jewelry, to all natural soaps, lotions, makeup, and handmade furniture.
A new boutique that just recently opened is Mira's Boutique in the New Hartford Shopping Center. Mira's has something for everyone, including casual wear, formal wear, lingerie, handbags, and accessories.
Similar to Mira's, is Linsey Layne Boutique, which has recently expanded into a larger storefront in New Hartford. This boutique offers clothing, jewelry, and most recently handmade furniture.
Located right next door to Linsey Layne is The Topping Tree. This is the go-to place for headbands, hats, hair bows and more. The Topping Tree works with independent designers from across the country to ensure their products are trendy and different.
Joette's Gifts, also located in New Hartford, offers all types of accessories; mainly jewelry. If one is looking for a statement necklace, colorful designs or something small you're sure to nd it at Joette's.
Another popular boutique to check out is Krizia Martin in Clinton. This boutique specializes in clothing and gift
wear that include designers such as Lilly Pulitzer, Vineyard Vines, Lacoste, and much more
Francesca Zumpano, a sophomore studying business economics with a concentration in nance, tries to shop locally as often as she can. Two of her favorite boutiques are The Topping Tree and Linsey Layne Boutique. Zumpano stated that there are many bene ts to shopping locally.
"From an economic standpoint, shopping locally strengthens the local economy," Zumpano said. "Local boutiques keep money in our community and overall bene ts the community entirely. These boutiques also provide jobs in the local district."
Zumpano loves the other bene ts to the community that local boutiques provide, such as one-of-a-kind items that typically cannot be found in chain stores. Items she usually searches for are tops and dresses but usually ends up purchasing accessories as well.
"Although boutiques tend to carry a large array of products, I wish they carried more outerwear including vests, coats and shoes," Zumpano explained
Senior education student Makenzie Amodio enjoys shopping at the Runway Fashion Boutique in New York Mills. She likes shopping there "because it is small, and everything is so organized compared to the messy racks that you get in a mall."
"The owner of this boutique is the only person who works there, so you get to know her, and she gets to know you," Amodio said.
Amodio likes the personal attention she gets from shopping at a small boutique. She likes that the owner at Runway Fashion Boutique will help customers choose and then personally order the style they want if it is not in the store.
Amodio recently went to thisboutiquetolookforaNew Year'sEveout tbuttypically goes there for styles that no one else would have. She wishes that boutiques had a larger selection of purses. She feels boutiques in this area typically carry clothing and small accessories
Angela Malaspina, a senior business management student with a concentration in human resource management, likes to shop at locally owned businesses as well
"Not only does it help the economy, but I feel better about spending my money when it is going to a person rather than a large chain store," Malaspina said.
She and her friends like to go to Linsey Layne on Genesee Street. Malaspina likes to "look for something different, like a unique piece of jewelry." She says if there were more boutiques in the area she would frequent them more often. Items she preferred for boutiques to sell more of are home décor items, different canvas art, small trinkets and throw pillows.