Super Bowl Sunday approaches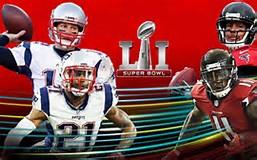 Falcons and Patriots set to face off this Sunday
Jordan Hughes, Staff Writer
The Super Bowl is the most watched show in the history of television. What makes this game so special? Are the viewers that much of football fans?  Millions of fans tune in from across the world to watch the two best teams battle for the Vince Lombardi trophy.
This year, the two teams that will be facing off are the New England Patriots and the Atlanta Falcons. The Falcons haven't been in the Super Bowl since 1998.
History has proven to be a burden for the Falcons, as the team has only made it to the post season 13 times.  It's a stunning number, considering the franchise was one of the first in the National Football League.
With the big game coming up, fans of the NFL are in full swing, between setting up parties or the classic snack trays.  Even the Utica College dorms are stacked with pizza and wings.
The real question everyone is asking is: who will take home the title? After asking a few students, we have come a to a conclusion: everyone loves the commercials more than the actual game.
Oftentimes fans can lose interest in the game because their team isn't playing in the Super Bowl.  Considering most fans root for teams that are in close proximity, a majority of students hope the Patriots win.
Sophomore athlete Brooke Catalano can't wait for the Patriots to lose. Catalano is a die-hard Pittsburgh Steelers. After her Steelers lost to the Patriots, it's easy to see why she sides that way.
"I'd rather watch paint dry than see the Patriots win another Super Bowl," Catalano said.
Keri Berkowitz, of UC's Women's Soccer team, is rooting against the Patriots.  Berowitz was born and raised in Wisconsin, making her a big-time Green Bay Packers fan.  It seems to be a trend that those who aren't Patriots fans can't stand the idea of them winning another Super Bowl.
"I'll watch the game, but since my Packers aren't in it the hype isn't the same," Berkowitz said.
Senior Criminal Justice Major Aaron Augusto is beyond excited to see his Patriots make a run for their 5th Super Bowl win in the team's history.  Augusto has been a loyal Patriots fan for as long as he can remember, clearly marking himself as a non-bandwagon fan.
Millions of viewers tune in from all over the world to watch the Super Bowl. The high number of viewers sets the stage for the overdose of commercials that are seen during the game.
Some viewers strategically tune into the game during halftime just to see the commercials.